---
Woodforest National Bank and FHLB Dallas Award Over $250K in Disaster Aid 
Recipients Suffered Damages in the Texas Ice Storm or Hurricane Harvey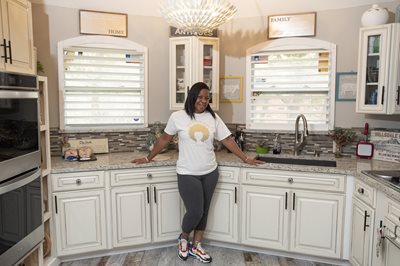 DALLAS, TEXAS, NOVEMBER 30 — When February's ice storm caused unprecedented power outages throughout much of Texas, Yeneka Younger shivered in an unheated Dallas, Texas, home for days.

But that wasn't the worst of it. The freezing temperatures caused pipes to burst in her kitchen resulting in extensive water damage to her cabinets and flooring, she said.

Woodforest National Bank® (Woodforest), a member of the Federal Home Loan Bank of Dallas (FHLB Dallas), teamed up with FHLB Dallas to disburse more than $250,000 in Disaster Rebuilding Assistance to 28 homeowners in Houston, Dallas and Refugio, Texas, who are still rebuilding from 2017's Hurricane Harvey, and to provide support to the 2021 ice-storm victims across Texas.

Ms. Younger, one of the recipients, referred to Woodforest by community partner Southern Dallas Progress Community Development Corp. (CDC), received an $8,365 Disaster Rebuilding Assistance subsidy from Woodforest and FHLB Dallas to repair her kitchen.

"I would like to thank Woodforest and FHLB Dallas for helping me and my family during our time of need due to the winter storm. This program helped me regain my life back by fixing my kitchen. I don't know where I would be without their help. They were the steppingstone I needed," Ms. Younger said.

Disaster Rebuilding Assistance provides funds for the repair and restoration of owner-occupied housing affected by a federally declared disaster within FHLB Dallas' five-state District.

"When a natural disaster strikes, like what happened with the Texas power outages, homeowners can be taken by surprise with unexpected and costly repairs," said Woodforest Community Development Relationship Manager for Dallas, Krystian Reyes.

"The Disaster Rebuilding Assistance program provides a lifeline for homeowners impacted by natural disasters," Mr. Reyes said. "We are grateful for the work of the Southern Dallas CDC and pleased to be able to join with FHLB Dallas to give Ms. Younger and all our recipients the peace of mind that comes with putting these repairs behind them."

FHLB Dallas set aside $500,000 for Disaster Rebuilding Assistance in 2021 and in August, it added another $250,000 due to significant demand. After Hurricane Ida it set aside an additional $500,000.

The funds are disbursed through member institutions like Woodforest on a first-come, first-served basis, one homeowner at a time. To learn more about FHLB Dallas disaster assistance, go to fhlb.com/disaster.

"Providing relief and recovery assistance after a disaster is an area where FHLB Dallas members excel," said Greg Hettrick, first vice president and director of Community Investment at FHLB Dallas. "Our members put their communities first, and we commend Woodforest for assisting victims of the Texas ice storm and Hurricane Harvey. They are making a positive impact."

About Woodforest National Bank
Celebrating 40 years of community banking service, Woodforest National Bank has successfully stood among the strongest community banks in the nation, proudly offering outstanding customer service since 1980. Woodforest currently operates over 760 branches in 17 states across the United States and is an Outstanding CRA rated institution. For more information about Woodforest National Bank, please visit woodforest.com.

About the Federal Home Loan Bank of Dallas
The Federal Home Loan Bank of Dallas is one of 11 district banks in the FHLBank System created by Congress in 1932. FHLB Dallas, with total assets of $60.2 billion as of September 30, 2021, is a member-owned cooperative that supports housing and community development by providing competitively priced loans and other credit products to approximately 800 members and associated institutions in Arkansas, Louisiana, Mississippi, New Mexico and Texas. For more information, visit our website at fhlb.com.



---
Contact Information:
Corporate Communications
Federal Home Loan Bank of Dallas
fhlb.com
214.441.8445