---
Pharmacy Opens with Help of Small Business Boost
BankPlus and FHLB Dallas Partner on Loan for Northtown Pharmacy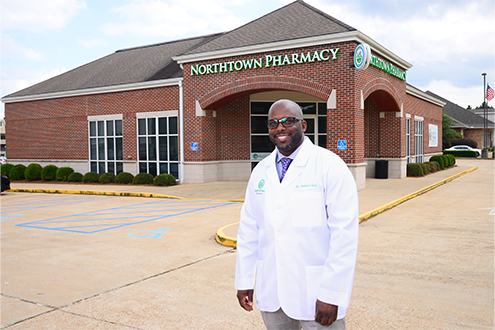 JACKSON, MISSISSIPPI, June 28, 2021 – It's only been a few weeks since Dr. Andrew Clark opened the doors of Northtown Pharmacy, and he already feels at home and optimistic about the business's future at the corner of Old Canton Road and Northtown Drive in Jackson, Mississippi.

The independent pharmacy opened June 1 with a loan from BankPlus that was combined with a $100,000 Small Business Boost (SBB) loan from the Federal Home Loan Bank of Dallas (FHLB Dallas) and BankPlus that provided gap funding.

SBB is offered by FHLB Dallas through member financial institutions like BankPlus to provide financing for qualified small business transactions by filling the gap between the loan amount that an FHLB Dallas member institution can fund and the loan request made by an eligible small business. SBB loans are unsecured and subordinate to the primary loan made by the member financial institution.

"The Small Business Boost loan allowed me to free up capital to stock and staff the pharmacy so that all my capital wasn't tied up in the purchase of the building," Dr. Clark said.

Mark Ouellette, first vice president and director of Affordable Housing at BankPlus, said the bank is a long-time advocate of the FHLB Dallas loan program, which provides "gap" funding for startups and existing businesses that have a great business plan but who might not have enough equity to qualify for a more traditional bank loan.

"Startups like Northtown Pharmacy may have a stellar business plan but may lack equity to fund both the brick-and-mortar and the first-year operational costs, which can be daunting for small business owners," said Mr. Ouellette. "The Small Business Boost allowed Dr. Clark to purchase a great building while maintaining a capital cushion for first-year operations."

Another advantage of SBB is that the borrower does not begin to repay the loan until after the first year. This feature is designed to help a small business build critical cash flow during the first year of the loan.

Of BankPlus's 28 SBB loans since the program was launched in 2019, 15 were startups.

Greg Hettrick, first vice president and director of Community Investment for FHLB Dallas, said access to capital is key for the success of small businesses.

"Access to capital for small businesses can be difficult to obtain," he said. "We created the SBB program to help our member financial institutions fill the gap between what they can lend a small business and what that business needs to be successful. BankPlus has seen the value of this program and has taken the ball and run with it."

Northtown Pharmacy is owned and operated by Dr. Clark who has already hired his first employee, a graduate intern on her way to becoming a full-time pharmacist. It expects to eventually have as many as five employees, he said.

The pharmacy is in a neighborhood that Dr. Clark calls home.

"I live in the community that the pharmacy serves, and my kids go to the schools in the community," he said. "Being able to say we live here, go to school here and have an interest in what is going on in the community makes a difference. It shows you care."

About BankPlus
Founded in 1909, BankPlus is one of the Southeast's premier regional banks serving consumers and businesses with the latest technology through a full suite of financial services, including retail banking, commercial banking, mortgage lending and wealth management. With approximately $5 billion in total assets, BankPlus operates 79 financial centers throughout Mississippi, Alabama and Louisiana. For more information about BankPlus, visit bankplus.net.

About the Federal Home Loan Bank of Dallas
The Federal Home Loan Bank of Dallas is one of 11 district banks in the FHLBank System created by Congress in 1932. FHLB Dallas, with total assets of $61.1 billion as of March 31, 2021, is a member-owned cooperative that supports housing and community development by providing competitively priced loans and other credit products to approximately 800 members and associated institutions in Arkansas, Louisiana, Mississippi, New Mexico and Texas. For more information, visit our website at fhlb.com.
---
Contact Information:
Corporate Communications
Federal Home Loan Bank of Dallas
fhlb.com
214.441.8445