---
McLennan Community Investment Fund Receives $8K Grant
FHLB Dallas and Insurors Indemnity Company Partner on Funding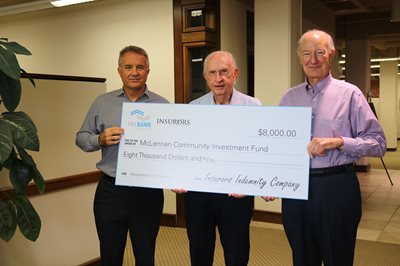 WACO, TEXAS, September 22, 2021 — Insurors Indemnity Company and the Federal Home Loan Bank of Dallas (FHLB Dallas) have partnered to award $8,000 in Partnership Grant Program (PGP) funds to McLennan Community Investment Fund (McCIF).

The funding was celebrated during a ceremonial check presentation on September 14.

"McCIF offers small business loans and business training to McLennan County small businesses, providing the funding and expertise that is instrumental in fostering economic growth, innovation and jobs in our communities," said Dave Talbert, president and CEO of Insurors Indemnity Company.

McCIF will use the funding to build its organizational capacity by offsetting administrative and operational expenses and strengthening the governance of the organization, which is seeking certification from the United States Treasury Department as a Community Development Financial Institution (CDFI). Certification will allow McCIF to participate in a number of Treasury and Small Business Administration financing programs including New Market Tax Credits and direct loans and grants to grow its ability to lend.

"This FHLB Dallas funding will further our efforts to assist small businesses in McLennan County and help them grow," said Bill Vance, McCIF president. "We are very thankful for this funding from FHLB Dallas and Insurors Indemnity Company."

For 2021, FHLB Dallas awarded $400,000 in PGP grants, and its members provided an additional $200,250 for an impact of more than $600,000 in its five-state District of Arkansas, Louisiana, Mississippi, New Mexico and Texas.

"We value our partnership with Insurors Indemnity, and we look forward to the fruits of this partnership through the growth of small businesses in McLennan County via the work of McCIF," said Greg Hettrick, first vice president and director of Community Investment at FHLB Dallas.

See the complete list of the 2021 PGP grant recipients. For more information about the 2021 PGP grants and other FHLB Dallas community investment products and programs, please visit fhlb.com/pgp.

About Insurors Indemnity Company
Based in Waco, Texas, Insurors Indemnity is a regional insurance carrier supported by over 350 independent agents who market the company's Property & Casualty and Surety products in Arkansas, Arizona, New Mexico, Nevada, Kansas, Louisiana, Oklahoma, Texas and Utah. A focus on commonsense underwriting coupled with fast and friendly service underpins Insurors' approach to offering innovative and competitively priced insurance products. For more information visit insurorsindemnity.com

About the Federal Home Loan Bank of Dallas
The Federal Home Loan Bank of Dallas is one of 11 district banks in the FHLBank System created by Congress in 1932. FHLB Dallas, with total assets of $58.6 billion as of June 30, 2021, is a member-owned cooperative that supports housing and community development by providing competitively priced loans and other credit products to approximately 800 members and associated institutions in Arkansas, Louisiana, Mississippi, New Mexico and Texas. For more information, visit our website at fhlb.com.

---
Contact Information:
Corporate Communications
Federal Home Loan Bank of Dallas
fhlb.com
214.441.8445