---
Louisiana Retiree Replaces Leaky Roof with SNAP Subsidy
Origin Bank and FHLB Dallas Partner to Provide Funds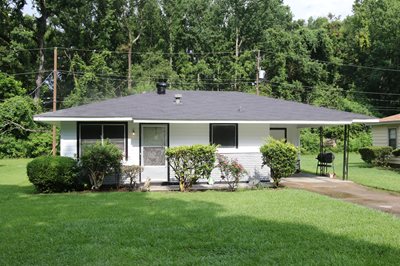 MONROE, LOUISIANA, September 9, 2021 — Dorothy Johnson, 72, knows all too well the stress of a leaky roof during a rainstorm. And being on dialysis treatment only compounded her worry.

Ms. Johnson endured many storms with water streaming through her ceiling into her home until a $4,784 Special Needs Assistance Program (SNAP) subsidy from Origin Bancorp, Inc. (Origin Bank) and the Federal Home Loan Bank of Dallas (FHLB Dallas) funded a full roof replacement.

"Because of the SNAP subsidy, my mom is now comfortable in her own home whenever it rains, and she no longer has to worry about what to do if rain leaks through the ceiling," said Kimberly Johnson, Ms. Johnson's daughter.

Ms. Johnson – who has lived in her home for 52 years – learned about SNAP through her brother who received a subsidy several years ago. He connected her with Shelia Grayson, vice president, CRA and community development officer, at Origin Bank.

"It's rewarding to be able to provide this assistance to people such as Ms. Johnson through SNAP," Ms. Grayson said. "The funds are an invaluable benefit for qualifying homeowners in need of help with repairs and improvements."

Through member institutions such as Origin Bank, SNAP provides subsidies for the repair and rehabilitation of owner-occupied housing of eligible, special-needs individuals. The maximum SNAP award per household is $6,000 unless the member or another lender contributes $350 toward the rehabilitation costs and/or inspection fees. Then the maximum award per household is $7,000.

FHLB Dallas set aside $2.5 million of its 2021 Affordable Housing Program (AHP) funds for SNAP, and all SNAP funds were allocated in January for the highly sought-after program. Last year, FHLB Dallas awarded $2.5 million in SNAP subsidies that assisted 421 families. Since the program's 2009 inception, nearly $20.5 million in funding has been awarded across FHLB Dallas' five-state District.

"We're grateful to work with Origin Bank to make these funds available to Ms. Johnson and to help people in the communities it serves, one homeowner at a time," said Greg Hettrick, first vice president and director of Community Investment at FHLB Dallas.

To learn more about SNAP, visit fhlb.com/snap.

About Origin Bancorp, Inc.
Origin is a financial holding company headquartered in Ruston, Louisiana. Origin's wholly owned bank subsidiary, Origin Bank, was founded in 1912. Deeply rooted in Origin's history is a culture committed to providing personalized, relationship banking to its clients and communities. Origin provides a broad range of financial services to businesses, municipalities, high net-worth individuals and retail clients. Origin currently operates 44 banking centers located from Dallas/Fort Worth and Houston, Texas across North Louisiana and into Mississippi. For more information, visit www.origin.bank.

About the Federal Home Loan Bank of Dallas
The Federal Home Loan Bank of Dallas is one of 11 district banks in the FHLBank System created by Congress in 1932. FHLB Dallas, with total assets of $58.6 billion as of June 30, 2021, is a member-owned cooperative that supports housing and community development by providing competitively priced loans and other credit products to approximately 800 members and associated institutions in Arkansas, Louisiana, Mississippi, New Mexico and Texas. For more information, visit our website at fhlb.com.



---
Contact Information:
Corporate Communications
Federal Home Loan Bank of Dallas
fhlb.com
214.441.8445