---
Louisiana Native Receives Hurricane Recovery Help
Origin Bank and FHLB Dallas Provide Disaster Rebuilding Assistance Funds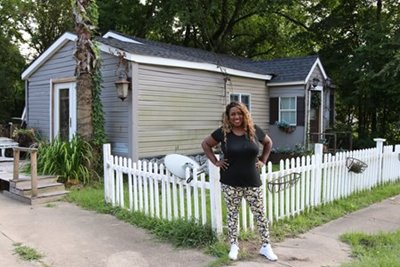 MONROE, LOUISIANA, August 23 — Brenda Collins has lived in Monroe, Louisiana, her entire life and has enjoyed every second of it. But, she had a tough time after the 2020 hurricanes destroyed her roof.

Origin Bank and the Federal Home Loan Bank of Dallas (FHLB Dallas) partnered to assist Ms. Collins by providing a $10,000 Disaster Rebuilding Assistance subsidy to make critical repairs to her roof.

"I would be putting out buckets every time it rained to keep water from flowing into my house," said Ms. Collins. "If I had not received this funding, I would still be saving up for the repairs. Nobody knows how much I needed this, and it has just been the biggest blessing."

Disaster Rebuilding Assistance provides funds for the repair and restoration of owner-occupied housing affected by a federally declared disaster within FHLB Dallas' five-state District.

Even repairing part of the damage can enhance a homeowner's quality of life, said Shelia Grayson, vice president, CRA and community development officer, at Origin Bank.

"After working with Ms. Collins, I have seen the positive affect the Disaster Rebuilding Assistance has on homeowners," Ms. Grayson said. "Even repairing just part of the problem can lift a huge weight off their shoulders, and I'm so glad we can play a role in the impact these repairs have had on Ms. Collins."

FHLB Dallas set aside $500,000 for Disaster Rebuilding Assistance in 2021. The funds are disbursed through member institutions like Origin Bank on a first-come, first-served basis, one homeowner at a time.

Helping members support their community's recovery after any natural disaster in the area was just the right thing to do, said Greg Hettrick, first vice president and director of Community Investment at FHLB Dallas.

"Our members come first at FHLB Dallas, so what is important to them is also important to us," said Mr. Hettrick. "We heard first-hand accounts from our community bankers of the devastation Louisiana experienced last year, and we wanted to set aside money to help homeowners and community organizations involved in the recovery efforts."

About Origin Bancorp, Inc.
Origin is a financial holding company headquartered in Ruston, Louisiana. Origin's wholly owned bank subsidiary, Origin Bank, was founded in 1912. Deeply rooted in Origin's history is a culture committed to providing personalized, relationship banking to its clients and communities. Origin provides a broad range of financial services to businesses, municipalities, high net-worth individuals and retail clients. Origin currently operates 44 banking centers located from Dallas/Fort Worth and Houston, Texas across North Louisiana and into Mississippi. For more information, visit www.origin.bank.

About the Federal Home Loan Bank of Dallas
The Federal Home Loan Bank of Dallas is one of 11 district banks in the FHLBank System created by Congress in 1932. FHLB Dallas, with total assets of $58.6 billion as of June 30, 2021, is a member-owned cooperative that supports housing and community development by providing competitively priced loans and other credit products to approximately 800 members and associated institutions in Arkansas, Louisiana, Mississippi, New Mexico and Texas. For more information, visit our website at fhlb.com.



---
Contact Information:
Corporate Communications
Federal Home Loan Bank of Dallas
fhlb.com
214.441.8445