---
Five Banks Award Nearly $18K to Little Rock, Arkansas, Housing Nonprofit 
IN Affordable Housing Receives Funding from Partnership Grant Program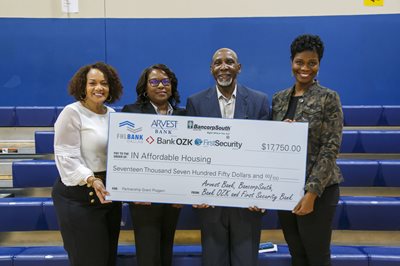 LITTLE ROCK, ARKANSAS, November 10, 2021 – IN Affordable Housing in Little Rock, Arkansas, received $17,750 in Partnership Grant Program (PGP) funds from five banks, including the Federal Home Loan Bank of Dallas (FHLB Dallas), during a ceremonial check presentation on Tuesday.

The following FHLB Dallas members provided funding, which includes a 3:1 match from FHLB Dallas:

Bank OZK: $9,933
Arvest Bank: $5,583
BancorpSouth Bank: $1,117
First Security Bank: $1,117

IN Affordable Housing creates and preserves affordable housing opportunities in targeted neighborhoods for families with limited incomes through training, financial education and advocacy.

"We appreciate the support from Arvest Bank, Bank OZK, BancorpSouth Bank, First Security Bank and FHLB Dallas," said Roma Isom, director of IN Affordable Housing. "These grants will help us offset some of our expenses including pre-development costs associated with our single-family housing construction such as architectural, engineering and legal fees, title reports and survey costs."

Arvest Bank Group CRA Director Virgil Miller said the bank has supported IN Affordable Housing in the past.

"Arvest Bank is very familiar with the can-do attitude at IN Affordable Housing," Mr. Miller said. "This organization has a long record of completing quality affordable housing projects in the Little Rock area."

Bank OZK Community Development Manager Lasha Marshall said the PGP is very important to communities.

"Bank OZK is pleased to support the work of IN Affordable Housing in addressing the need for affordable housing in Little Rock," said Ms. Marshall. "We are honored to help to increase the opportunity for low-income families to be able to purchase homes, revitalize neighborhoods and strengthen communities."

First Security Bank Assistant Vice President and CRA Officer Andrea Hogan Lewis said the PGP allows nonprofits to use funding for operations, capacity building and administrative expenses, providing flexibility to cover routine costs.

"The PGP is a vital resource in our communities. We are thankful for this opportunity to support IN Affordable Housing to continue providing affordable housing to those interested in homeownership," Ms. Lewis said.

BancorpSouth Bank Community Development Lender Eveonne Lindsey added that the funding is a great benefit for organizations in the area.

"We are thankful to be part of this program with FHLB Dallas, which makes it easier for communities to access valuable resources and provides critical affordable housing opportunities for families with limited incomes," Ms. Lindsey said.

For 2021, FHLB Dallas awarded $400,000 in PGP funds, and its members provided an additional $200,250 for an impact of more than $600,000 in its five-state District of Arkansas, Louisiana, Mississippi, New Mexico and Texas.

"These four members are all very active participants in our community investment programs," said Greg Hettrick, first vice president and director of Community Investment at FHLB Dallas. "They have been reliable, trusted partners with local nonprofits, in this case helping IN Affordable Housing to create and preserve affordable housing in Little Rock and surrounding areas."

See the complete list of the 2021 PGP recipients. For more information about the 2021 PGP and other FHLB Dallas community investment products and programs, please visit fhlb.com/pgp.

About the Federal Home Loan Bank of Dallas
The Federal Home Loan Bank of Dallas is one of 11 district banks in the FHLBank System created by Congress in 1932. FHLB Dallas, with total assets of $60.2 billion as of September 30, 2021, is a member-owned cooperative that supports housing and community development by providing competitively priced loans and other credit products to approximately 800 members and associated institutions in Arkansas, Louisiana, Mississippi, New Mexico and Texas. For more information, visit our website at fhlb.com.


---
Contact Information:
Corporate Communications
Federal Home Loan Bank of Dallas
fhlb.com
214.441.8445