---
Austin Bank and FHLB Dallas Award $17K to Hand Up Network
The Organization Will Use the Funds to Offset Operational Expenses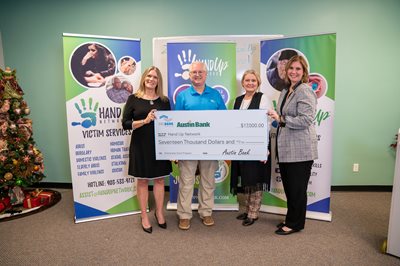 TYLER, TEXAS, December 15, 2021 — Austin Bank and the Federal Home Loan Bank of Dallas (FHLB Dallas) awarded $17,000 in Partnership Grant Program (PGP) funds to Hand Up Network for operational expenses.

The organizations held a ceremonial check presentation on Tuesday, December 14, 2021.

Hand Up Network is a faith-based organization that focuses on offering low- to moderate-income people a "hand up" rather than a "hand-out" to improve their overall mental, emotional and physical well-being, including employment counseling, skills development, financial literacy and mentorship.

"Our programs are designed to focus on encouraging, equipping and empowering adults who want to change their own circumstances," said Hand Up Network CEO Samuel Smith. "We are thankful to have received Partnership Grant Program funds that will create a direct impact on those community members that we serve."

Austin Bank Senior Vice President and CRA Officer Debbie Braune said the PGP is a great tool for community banks.

"FHLB Dallas' PGP is a unique program that allows us to partner with community-based organizations and assist in serving the community," said Ms. Braune. "Hand Up Network provides a well-rounded holistic approach to helping people get back on their feet, and we are proud to be part of that."

For 2021, FHLB Dallas awarded $400,000 in PGP grants, and its members provided an additional $200,250 for an impact of more than $600,000 in its five-state District of Arkansas, Louisiana, Mississippi, New Mexico and Texas.

"Hand Up Network brings a lot of value to its community with the programs it offers for low- to moderate-income residents," said Greg Hettrick, first vice president and director of Community Investment at FHLB Dallas. "We are grateful to partner with Austin Bank to help a community-based organization continue carrying out its mission for the people it serves."

See the complete list of the 2021 PGP grant recipients. For more information about the 2021 PGP grants and other FHLB Dallas community investment products and programs, please visit fhlb.com/pgp.

About Austin Bank
Austin Bank is a community bank with assets in excess of $2.5 billion. Headquartered in Jacksonville, Texas, Austin Bank serves the needs of families and businesses with more than 480 employees in 35 locations, 25 cities and 13 counties. During 2019, Austin Bank employees gave countless hours of volunteer service, and the Bank contributed nearly $700,000 in direct support of local education, the arts, literacy, health and housing needs. Austin Bank is locally owned and operated by the Austin Family who is celebrating 112 years of serving the banking industry. For more information about Austin Bank, please visit www.austinbank.com.

About the Federal Home Loan Bank of Dallas
The Federal Home Loan Bank of Dallas is one of 11 district banks in the FHLBank System created by Congress in 1932. FHLB Dallas, with total assets of $60.2 billion as of September 30, 2021, is a member-owned cooperative that supports housing and community development by providing competitively priced loans and other credit products to approximately 800 members and associated institutions in Arkansas, Louisiana, Mississippi, New Mexico and Texas. For more information, visit our website at fhlb.com.

---
Contact Information:
Corporate Communications
Federal Home Loan Bank of Dallas
fhlb.com
214.441.8445