---
$10K HAVEN Grant Helps Arkansas Army Veteran with Home Repairs
FBT Bank and Mortgage and FHLB Dallas Fund Home Repairs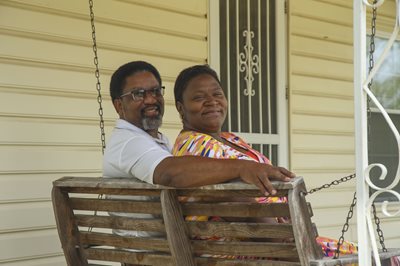 BEARDEN, ARKANSAS, September 9, 2021 — U.S. Army Reserve Veteran Jeffery Darrough, who served tours in Iraq and Kuwait, recently received a $10,000 Housing Assistance for Veterans (HAVEN) grant to make repairs on his Arkansas home.

At the age of 17, Master Sergeant Darrough decided to enter the Army Reserve on a last-minute whim.

"Ironically, I went to support a friend who was signing up to join the Army, and the rest of my friends and I ended up taking the required test, as well. We all passed except for the friend that actually wanted to sign up," says Master Sergeant Darrough.

It did not take much convincing for Master Sergeant Darrough to join the Army after that. He spent 26 years in the Army, including six years of active duty. During his service, he helped move supplies from Kuwait to Iraq.

Now 54, Master Sergeant Darrough suffers from post-traumatic stress disorder and memory loss, which complicated his ability to get re-acclimated to civilian life. He and his wife purchased an older home that required extensive and expensive renovations. That's when he discovered the HAVEN grant, offered by the Federal Home Loan Bank of Dallas (FHLB Dallas).

Master Sergeant Darrough got connected with FBT Bank and Mortgage to apply for and receive the grant. HAVEN funds, which are awarded through participating FHLB Dallas members like FBT Bank and Mortgage, assist with necessary modifications to homes of U.S. veterans and active-duty, reserve or National Guard service members who became disabled as a result of military service occurring after September 11, 2001. The funds may also be awarded to Gold Star Families, who lost a loved one during this time frame.

Master Sergeant Darrough's grant covered the installment of vinyl plank floors throughout the home, new toilets and new plumbing.

"This was our first time helping with the program and it was a simple decision to join," said FBT Bank and Mortgage Assistant Vice President Daniel Pledger. "Helping local veterans and their families through HAVEN is a big part of being a community bank. I think the HAVEN program is outstanding, and we plan to help other veterans apply for the grant."

Master Sergeant Darrough said it would have taken longer to complete the renovations without the grant.

"If I had not received the grant, I probably would have had to push back the repairs I needed. There is no way I could have gotten it all done at once," he said. "The HAVEN program took my worries away, and it was a tremendous blessing."

Greg Hettrick, first vice president and director of Community Investment at FHLB Dallas, says HAVEN is a unique program because it provides important services those who have served in the military.

"HAVEN is a prime example of the mission of FHLB Dallas and its members, such as FBT Bank and Mortgage, to provide services that support the community in a compelling way," said Mr. Hettrick. "We consider it a privilege to partner with FBT Bank and Mortgage to fund these needed home improvements to Master Sergeant Darrough."

About FBT Bank and Mortgage
FBT Bank and Mortgage is a full-service bank established in 1931. Now operating in five locations, FBT Bank and Mortgage is focused on the communities it serves, offering state-of-the-art products and services while delivering personalized attention to customers. To learn more, go to fbtbank.com.

About the Federal Home Loan Bank of Dallas
The Federal Home Loan Bank of Dallas is one of 11 district banks in the FHLBank System created by Congress in 1932. FHLB Dallas, with total assets of $58.6 billion as of June 30, 2021, is a member-owned cooperative that supports housing and community development by providing competitively priced loans and other credit products to approximately 800 members and associated institutions in Arkansas, Louisiana, Mississippi, New Mexico and Texas. For more information, visit our website at fhlb.com.


---
Contact Information:
Corporate Communications
Federal Home Loan Bank of Dallas
fhlb.com
214.441.8445