---
HELP Grant Provides Down Payment on First Home for Arkansas Music Director
Centennial Bank and FHLB Dallas Provide Funding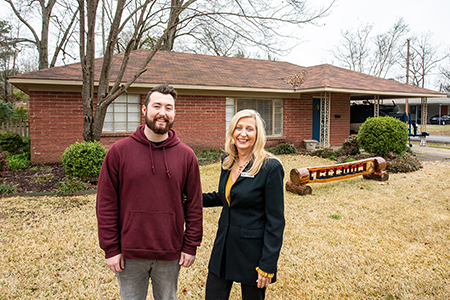 CONWAY, ARKANSAS, February 20, 2020 – First-time homeowner Lane Long has devoted his life to service. As a music director for a local church, the 24-year-old Conway, Arkansas, resident works full-time, helping to lead services and working with volunteers.
When Mr. Long moved to Conway for college, he initially lived on campus before moving to an apartment, which he shared with two roommates for three years. When he heard a home had been donated to his church, he jumped at the opportunity to help lead services out of the home, which he shared with college-aged congregants.
As his role within the church shifted toward adult ministry and music, Mr. Long decided it was time to move into a permanent home of his own.
"There was not a lot of privacy, which is OK for two years. But as my role began to shift, it was clear that I needed some privacy and space," said Mr. Long.
Mr. Long learned about the Homebuyer Equity Leverage Partnership (HELP) grant – offered by the Federal Home Loan Bank of Dallas (FHLB Dallas) and member institutions – while he was raising funds for a 4th of July event called Freedom Fest. There he met Nancy Phillips, a mortgage loan officer from Centennial Bank, who upon ending their fundraising meeting, just happened to mention the HELP program.
"It was so funny because on my way out the door, I said, 'please let me know if there's anything I can do for you,' to which she responded, 'just let me know if you know of any first-time homebuyers.' The rest is history," he said. "Without the grant, I wouldn't have been able to jump into this opportunity so comfortably. I would have been financially stressed or not done it at all."
Ms. Phillips facilitated the loan application process and said that the program helps improve the community.
"HELP funds have been an extremely important investment each year to the community. The expanded eligibility allows individuals and families with low to moderate income to improve the quality of their life," she said.
Mr. Long received a $10,000 HELP grant from Centennial Bank and FHLB Dallas, which helped provide the down payment for his three-bedroom, one-bathroom home.
"The HELP grant opens the doors of possibility for residents who otherwise might not have had the opportunity to purchase a home," said Greg Hettrick, first vice president and director of Community Investment at FHLB Dallas.
Mr. Long said owning a home has changed his life.
"It's something special to have a place of your own and for me it's great to be able to have people over. Creating a comfortable, stable environment is something very special and important to me. That's my favorite thing about homeownership – giving people a place where they feel welcomed," he said.
About Home BancShares, Inc.
Home BancShares, Inc. is a bank holding company, headquartered in Conway, Arkansas. Its wholly owned subsidiary, Centennial Bank, provides a broad range of commercial and retail banking plus related financial services to businesses, real estate developers, investors, individuals and municipalities. Centennial Bank has branch locations in Arkansas, Florida, South Alabama and New York City. The Company's common stock is traded through the NASDAQ Global Select Market under the symbol "HOMB." For more information, please visit www.homebancshares.com or www.my100bank.com.
About the Federal Home Loan Bank of Dallas
The Federal Home Loan Bank of Dallas is one of 11 district banks in the FHLBank System created by Congress in 1932. FHLB Dallas, with total assets of $73.8 billion as of September 30, 2019, is a member-owned cooperative that supports housing and community investment by providing competitively priced loans and other credit products to approximately 815 members and associated institutions in Arkansas, Louisiana, Mississippi, New Mexico and Texas. For more information, visit fhlb.com.
---
Contact Information:
Corporate Communications
Federal Home Loan Bank of Dallas
fhlb.com
214.441.8445