---
HAVEN Grant Helps Hattiesburg Veteran Build a New House
The First, A National Banking Association and FHLB Dallas Partner on Award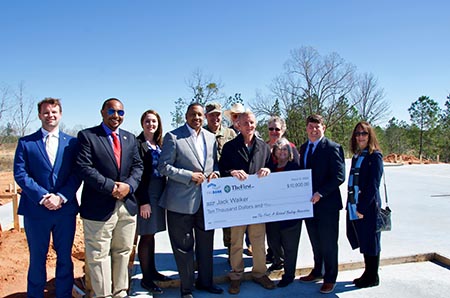 HATTIESBURG, MISSISSIPPI, March 6, 2020 – Jack Walker has been through a lot in his life. But with the help of a $10,000 Housing Assistance for Veterans (HAVEN) grant and the work of the Armorbearers and Wounded Warriors of Mississippi, things will be looking up very soon.
The HAVEN grant was provided by The First, A National Banking Association in Hattiesburg, Mississippi, and by the Federal Home Loan Bank of Dallas (FHLB Dallas). The Armorbearers, a group of Mississippi National Guard members, is building an Americans with Disabilities Act (ADA) approved home on land outside Hattiesburg that Mr. Walker owns. The new home will be close to the concrete slab, which is all that remains of Mr. Walker's home that burned to the ground in April 2018.
"As a Marine veteran and a member of the Mississippi National Guard, I can't help but be deeply touched by the plight of Jack Walker and the effort to rebuild his house outside Hattiesburg," said U.S. Representative Steven Palazzo, R-MS. "Mr. Walker, a heroic, severely injured Purple Heart recipient and veteran of the Iraq War, lost his house to a fire in 2018, but thanks to the efforts of The First, A National Banking Association, the Federal Home Loan Bank of Dallas, along with the Armorbearers and the Wounded Warriors of Mississippi, he will have a new home for him and his family."
Congressman Palazzo was joined by local elected officials and dignitaries, along with representatives of The First and FHLB Dallas at a check presentation at the construction site of Mr. Walker's new home.
Mr. Walker, a Purple Heart recipient and veteran of the Iraq War was severely injured in 2005 when an improvised explosive device exploded under the Humvee in which he was riding. The blast hurled him more than 40 meters, and he landed on his neck and shoulders, severely injuring his spine.
Today, Mr. Walker, a divorced father of two, who fought in Iraq as a member of the Mississippi National Guard, lives with his mother. He has a "cage" around his spine, suffers from post-traumatic stress disorder, traumatic brain injury and debilitating migraines, to name a few of his health challenges. In addition, Mr. Walker's right leg was amputated below the knee in December 2014.
"It definitely has brought my spirits up to see that the house is being built," he said. "It's been a long road since my house burned and we lost everything. There have been some trying days. When Ron Laabs told me they'd like to help me, it was a blessing. My kids and I are very excited about it."
Ron Laabs is a licensed building contractor, who heads the Armorbearers group. He said he heard about Mr. Walker from Cheryl Bruce, founder and president of Wounded Warriors of Mississippi. And while the Armorbearers' mission is to repair veterans' homes, Mr. Laabs said Mr. Walker's plight was so compelling that the group decided to build him a home using donations and volunteer workers. He hopes to complete the home in late March or early April.
Mr. Laabs approached Jerome Brown of The First for help with the HAVEN grant.
Mr. Brown, executive vice president and director of community development, worked with Mr. Laabs, a customer of the bank, and with a representative from FHLB Dallas.
"The next thing you know we got all the details we needed, FHLB Dallas was satisfied and we got a check cut," said Mr. Brown. "We couldn't be happier for Jack, and it's an honor to help Ron and his group do the great work they do for our veterans."
Mr. Brown said it was the bank's first experience with the HAVEN grant but it won't be the last.
"It worked exactly like it's supposed to work," he said. "I'm so appreciative of the grant programs the Federal Home Loan Bank of Dallas offers. They're awesome."
HAVEN assists post-9/11 U.S. veterans, active-duty military, reserves and National Guard service members who became disabled as a result of their post-9/11 service. It was recently expanded to assist Gold Star families – those who have lost loved ones to military service since 9/11. Households with income of 165 percent or less of the area median income may qualify.
The grant can be used for home repairs and modifications or to offset the construction cost of a new home. HAVEN grants are awarded through member institutions of FHLB Dallas. For 2020, FHLB Dallas has made $300,000 in HAVEN funds available to its member institutions to distribute to qualified applicants.
Greg Hettrick, first vice president and director of Community Investment at FHLB Dallas, said the HAVEN grant was designed to help military families who have sacrificed so much since September 11. "We were pleased to join with The First to help bring some good news to Jack Walker, a courageous veteran who has faced one adversity after another. We hope Mr. Walker enjoys this new home for many years to come."
Despite all the trials he has endured, Mr. Walker said he is lucky to be alive and to be able to walk. He also considers himself very fortunate to be getting a new house. "I'm very, very thankful for the help. I feel blessed by it. It's not every day that a guy gets this type of assistance, and I greatly appreciate any and all assistance in making this a reality for me and my children."
About The First, A National Banking Association
The First Bancshares, Inc., headquartered in Hattiesburg, Mississippi, is the parent company of The First, A National Banking Association. Founded in 1996, The First has operations in Mississippi, Louisiana, Alabama, Florida and Georgia. The Company's stock is traded on the NASDAQ Global Market under the symbol FBMS. Information is available on the Company's website: thefirstbank.com.
About the Federal Home Loan Bank of Dallas
---
Contact Information:
Corporate Communications
Federal Home Loan Bank of Dallas
fhlb.com
214.441.8445