---
Construction Begins on 80-Unit Affordable Housing Community with Help From $500K Grant
Gulf Coast Housing Partnership and South Mississippi Housing and Development Corp. Break Ground on New Project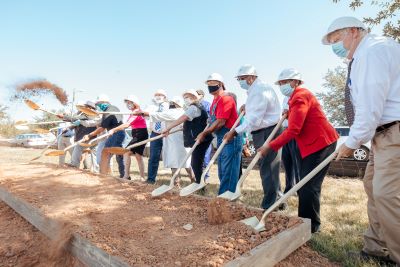 GULFPORT, MISSISSIPPI, October 23, 2020 – The redevelopment of North Park Estates, a proposed 80-unit affordable housing development community serving individuals and families at or below 60 percent average median income, in Gulfport, Mississippi, broke ground Thursday. The project was funded, in part, via a $500,000 Affordable Housing Program (AHP) grant from The Peoples Bank and the Federal Home Loan Bank of Dallas (FHLB Dallas) in 2017.

The grant was awarded to the Gulf Coast Housing Partnership (GCHP) for construction of the affordable housing development. South Mississippi Housing and Development Corp. (SMHD) partnered with GCHP to redevelop the housing community.

The 160-unit North Park Estates was built in 1959 as the former L.C. Jones public housing complex for the Mississippi Regional Housing Authority No. VIII (MRHA VIII). The site was transferred from MRHA VIII to SMHD in January 2008 to be operated as an affordable housing community known as North Park Estates.

Construction is expected to be complete in summer of 2021. Phase one of the project will involve the demolition of 92 units, an office and maintenance room. Of those 92 units, only 31 were habitable. Constructed in its place will be 80 new units to serve families.

"We are so thankful for The Peoples Bank and the Federal Home Loan Bank of Dallas for their generosity," said Kathy Laborde, president and CEO at GCHP. "The Affordable Housing Program funds allow GCHP to continue our mission of providing quality affordable housing to residents along the Gulf Coast."

Evelyn Herrington, senior vice president at The Peoples Bank, said the AHP is possible through FHLB Dallas' partnership.

"Our partnership with FHLB Dallas is what enables us to serve and benefit communities through the Affordable Housing Program," Ms. Herrington said. "The Peoples Bank is honored to step in and provide additional resources for GCHP to begin the work on North Park Estates."

AHP funds are intended to assist FHLB Dallas members in financing the purchase, construction and/or rehabilitation of owner-occupied, rental or transitional housing, as well as housing for homeless individuals in their community. AHP funds must be used to benefit households with incomes at or below 80 percent of the median income for the area.

For 2019, FHLB Dallas awarded $17 million in grants to 35 affordable housing projects. The grants will help create 2,122 new or rehabilitated housing units. Included in that total, are $4.6 million in grants for 466 units of housing in the state of Mississippi. Since the AHP's inception in 1990, FHLB Dallas has awarded more than $300 million in AHP and AHP set-aside programs and has assisted more than 53,500 households.

"The Affordable Housing Program is a great tool for organizations such as GCHP to come to fruition and we are honored to work with The Peoples Bank to improve the Gulfport community," said Greg Hettrick, first vice president and director of Community Investment at FHLB Dallas. "We are excited to see the impact this project will have in the coming years."

For more information about the AHP, visit fhlb.com/ahp.

About The Peoples Bank

Founded in 1896, with $689 million in assets as of September 30, 2020, The Peoples Bank operates 18 branches along the Mississippi Gulf Coast in Hancock, Harrison, Jackson and Stone counties. In addition to offering a comprehensive range of retail and commercial banking services, the bank also operates a trust and investment services department that has provided customers with financial, estate and retirement planning services since 1936.

The Peoples Bank is a wholly owned subsidiary of Peoples Financial Corporation, listed on the OTCQX Best Market under the symbol PFBX. Additional information is available on the Internet at www.thepeoples.com.

About the Federal Home Loan Bank of Dallas

The Federal Home Loan Bank of Dallas is one of 11 district banks in the FHLBank system created by Congress in 1932. FHLB Dallas, with total assets of $75 billion as of June 30, 2020, is a member-owned cooperative that supports housing and community development by providing competitively priced advances and other credit products to approximately 800 members and associated institutions in Arkansas, Louisiana, Mississippi, New Mexico and Texas. Visit fhlb.com for more information.
---
Contact Information:
Corporate Communications
Federal Home Loan Bank of Dallas
fhlb.com
214.441.8445