---
Congressman French Hill Joins Banks in Announcing $34K Grant to Arkansas Nonprofit
Banks Partner to Provide Funds Toward Residential and Commercial Revitalization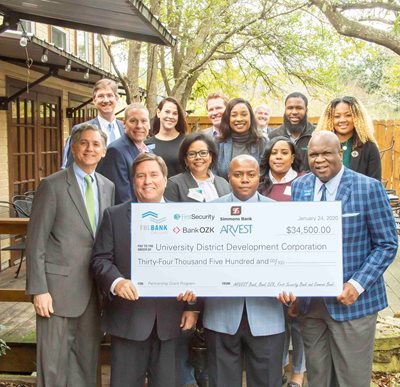 LITTLE ROCK, ARKANSAS, January 28, 2020 — U.S. Congressman French Hill, AR-2, recently joined representatives from Bank OZK, First Security Bank, Arvest Bank, Simmons Bank and the Federal Home Loan Bank of Dallas (FHLB Dallas) in presenting $34,500 in Partnership Grant Program (PGP) funds to the University District Development Corporation (UDDC). UDDC, a nonprofit that administers a revitalization program benefiting the residential and commercial neighborhoods adjacent to the University of Arkansas at Little Rock, will use the funds toward operating costs such as building maintenance, permit fees and taxes.
The ceremonial check presentation took place at a community development roundtable hosted Friday in Little Rock by FHLB Dallas and attended by local dignitaries. Also, at the roundtable, a $475,000 Affordable Housing Program (AHP) grant was presented to World Services for the Blind, a nonprofit that operates one of the most comprehensive rehabilitation centers in the world for the blind and visually impaired.
"UDDC is an organization that does great work for the betterment of the Little Rock community," Congressman Hill said. "The work they do cannot be done without the financial support of institutions like Bank OZK, Arvest, First Security Bank, Simmons Bank and the Federal Home Loan Bank of Dallas."
The grant will go a long way toward UDDC expenses.
"The Partnership Grant Program gives certain flexibility to organizations. It allows us to partner with FHLB Dallas members and apply those funds to impact the community," said UDDC Executive Director Barrett Allen. "The PGP helps fill a critical gap for nonprofits and I'm thankful for the program."
This is UDDC's third PGP grant.
"There is an undeniable need for affordable housing and Bank OZK is honored and appreciates working with organizations like UDDC to address this need in the community," said Lasha Marshall, community development manager for Bank OZK.
Andrea Lewis, assistant vice president, community outreach/business development and marketing at First Security Bank, said the bank is honored to help provide funds that will be reinvested in Little Rock.
"First Security Bank is very grateful to serve the community," said Ms. Lewis. "We are proud to work with the UDDC to invest in the communities we serve and build relationships."
Jim Cargill, president and CEO of Arvest Bank in central, northeast and southwest Arkansas, said the PGP will help restore the Little Rock community.
"This is a necessary endeavor that will restore the university area to the vibrant community it was only a few decades ago," said Mr. Cargill. "The support we provide our neighbors often returns to us tenfold in the form of more hopeful and successful individuals, and stronger communities altogether. We share the mission of the UDDC of investing in people, as well as our city."
Martie North, senior vice president and director of community development at Simmons Bank, said the PGP is an important part of relationship building in their community.
"Affordable housing is the cornerstone for strong and vibrant communities. The UDDC works hard every day to provide quality housing that is affordable and attractive within the University District," said Ms. North. "Investing in the communities in which we operate, work and play is a priority of Simmons Bank. The FHLB Dallas Partnership Grant provides us a wonderful opportunity to financially support organizations like the UDDC in their efforts to strengthen our communities. We believe in the work the UDDC is doing and value our partnership."
With the PGP, FHLB Dallas member institutions like Bank OZK, First Security Bank, Arvest Bank and Simmons Bank contribute $500 to $4,000 to a community-based organization (CBO), which FHLB Dallas matches at a 3:1 ratio. In 2019, FHLB Dallas awarded $300,000 in PGP funds through 25 member institutions to assist 27 CBOs. Combined with FHLB Dallas member contributions, a total of $442,500 has been awarded to the organizations.
"We are very thankful to our members Bank OZK, First Security Bank, Arvest Bank and Simmons Bank and Congressman Hill for showing support in the community," said Greg Hettrick, first vice president and director of Community Investment at FHLB Dallas. "FHLB Dallas is honored to partner with these institutions and continue to create affordable housing options for Little Rock residents."
About Bank OZK
Bank OZK (Nasdaq: OZK) is a regional bank providing innovative financial solutions delivered by expert bankers with a relentless pursuit of excellence. Bank OZK has been recognized as the #1 bank in the nation in its asset size for eight consecutive years. Headquartered in Little Rock, Arkansas, Bank OZK conducts operations through 251 offices in Arkansas, Georgia, Florida, North Carolina, Texas, Alabama, South Carolina, California, New York, and Mississippi. Bank OZK can be found at ozk.com and on Facebook, Twitter and LinkedIn or contacted at (501) 978-2265 or P. O. Box 8811, Little Rock, Arkansas 72231-8811.
About First Security Bancorp
First Security Bank was chartered to do business in the State of Arkansas in 1932. Based in Searcy, Arkansas, the privately held First Security Bancorp has the most complete and diverse product offering of any Arkansas-based financial services holding company. First Security Bank is a member of the FDIC and the 5th largest state-chartered bank in Arkansas. Proud to be financially strong supported by the strength of more than $1.1 billion in total capital and over 5.6 billion in assets, First Security Bancorp has the ability to meet financing needs from $1 to $100 million – right here in Arkansas. First Security's local network of 75 community banking centers, 95 ATMs, and over 1,000 employees across the state offer solutions for the financial needs of individuals, businesses and the public sector. First Security Bank is a place where commitment, experience, education and community service combine to create a customer-oriented banking institution that is second to none.
At First Security Bank, our customers receive all the benefits of a local bank that's based in Arkansas with the strength and service of a large – yet private – financial services holding company. First Security Bancorp subsidiaries include both First Security Bank and Crews and Associates. With First Security Bank and Crews and Associates we can offer a wide range of banking services including trust, wealth management, and mortgage, as well as investment banking and public financing.
About Arvest
Arvest Bank, named by Forbes magazine as one of "America's Best Large Employers" for 2019, operates more than 260 bank branches in Arkansas, Oklahoma, Missouri and Kansas through a group of 14 locally managed banks, each with its own board and management team. These banks serve customers in more than 135 communities, with extended weekday banking hours at many locations. Arvest also provides a wide range of banking services including loans, deposits, treasury management, credit cards, mortgage loans and mortgage servicing. Arvest is an Equal Housing Lender and Member FDIC.
About Simmons Bank
Simmons Bank is an Arkansas state-chartered bank that began as a community bank in 1903. Through the decades, Simmons has developed a full suite of financial products and services designed to meet the needs of individual consumers and business customers alike. Simmons has grown steadily to approximately $16.5 billion in assets (as of Dec. 31, 2018) and today operates approximately 200 branch locations throughout Arkansas, Colorado, Kansas, Missouri, Oklahoma, Tennessee and Texas. Simmons is the subsidiary bank for Simmons First National Corporation (NASDAQ: SFNC), a publicly traded bank holding company headquartered in Pine Bluff, Arkansas. For more information, visit simmonsbank.com.
About the Federal Home Loan Bank of Dallas
The Federal Home Loan Bank of Dallas is one of 11 district banks in the FHLBank System created by Congress in 1932. FHLB Dallas, with total assets of $73.8 billion as of September 30, 2019, is a member-owned cooperative that supports housing and community investment by providing competitively priced loans and other credit products to approximately 815 members and associated institutions in Arkansas, Louisiana, Mississippi, New Mexico and Texas. For more information, visit fhlb.com.
---
Contact Information:
Corporate Communications
Federal Home Loan Bank of Dallas
fhlb.com
214.441.8445