---
$250K Grant Helps Treatment Center Expand Housing Facility
First Security Bank and FHLB Dallas Award Affordable Housing Program Funds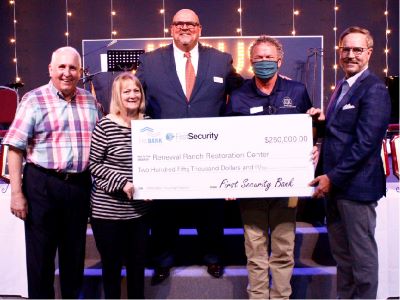 HOUSTON, ARKANSAS, August 25, 2020 – First Security Bank and the Federal Home Loan Bank of Dallas (FHLB Dallas) recently awarded a $250,000 Affordable Housing Program (AHP) grant to the Renewal Ranch Restoration Center (Renewal Ranch) in Houston, Arkansas. The center houses and treats men struggling with drug and alcohol addiction.
The grant will significantly expand the residential area of the Christian facility and help Renewal Ranch meet the increasing demand for services to indigent men age 21 and over, many of whom are homeless.
"The goal of our 12-month program is to help men find freedom from the chains of addiction, forgiveness from their past and hope for their future," said James A. Loy, executive director of Renewal Ranch. "We are humbled and grateful for this grant from First Security Bank and the Federal Home Loan Bank of Dallas. It will help us add 22 beds to our center and will increase our capacity from 31 to 53."
Mr. Loy said the increased capacity was critical for Renewal Ranch.
"We had over 300 written applications for our 31 beds in the first nine months of 2019," he said. "These new beds will enable us to help more men and their families."
Johnny Adams, market president and CEO for First Security Bank in Conway, Arkansas, said Renewal Ranch provides a critical service particularly at a time when addiction to drugs and alcohol is spiraling.
"They needed more space to have any hope of keeping pace with the demand for their services," he said. "We were only too happy to join with the Federal Home Loan Bank of Dallas and help Renewal Ranch dramatically expand its capacity to offer life-saving treatment and counseling."

The AHP assists FHLB Dallas member institutions like First Security Bank in financing the purchase, construction and/or rehabilitation of homes, benefiting households with incomes at or below 80 percent of the area's median income.

FHLB Dallas awards AHP grants annually, through member institutions, to support the creation or rehabilitation of affordable housing units, among other projects. In 2019, FHLB Dallas, in partnership with its member financial institutions, awarded $17 million in AHP grants to 35 projects that will result in 2,122 new or renovated housing units.

"We are pleased to join First Security Bank to provide additional housing for those seeking the critical drug and alcohol addiction treatment and counseling that takes place at the Renewal Ranch Restoration Center," said Greg Hettrick, first vice president and director of Community Investment at FHLB Dallas. "With this expansion, Renewal Ranch will be able to increase its housing capacity by more than 70 percent at a time when the demand for its services continues to grow."

Visit fhlb.com/ahp for more information on the AHP.

About First Security Bank
Based in Searcy, Arkansas, privately held First Security Bancorp has the most complete and diverse product offering of any Arkansas-based financial services holding company. Supported by the strength of $1.18 billion in total capital and $5.4 billion in assets, First Security can meet any financing need – right here in Arkansas. With more than 1,000 employees covering locations throughout the state, we offer solutions for the financial needs of individuals, businesses and the public sector, including a network of local community banks, respected investment banking and wealth management services, public finance, real estate development and revitalization, leasing and mortgage services.

About the Federal Home Loan Bank of Dallas
The Federal Home Loan Bank of Dallas is one of 11 district banks in the FHLBank system created by Congress in 1932. FHLB Dallas, with total assets of $75 billion as of June 30, 2020, is a member-owned cooperative that supports housing and community development by providing competitively priced advances and other credit products to approximately 800 members and associated institutions in Arkansas, Louisiana, Mississippi, New Mexico and Texas. Visit fhlb.com for more information.
---
Contact Information:
Corporate Communications
Federal Home Loan Bank of Dallas
fhlb.com
214.441.8445