---
Louisiana Nonprofit Receives $32K in Grant Funds at Baby Cakes Baseball Game
Partnership Grant Program Funds to Help Youth Who Have Aged Out of Foster Care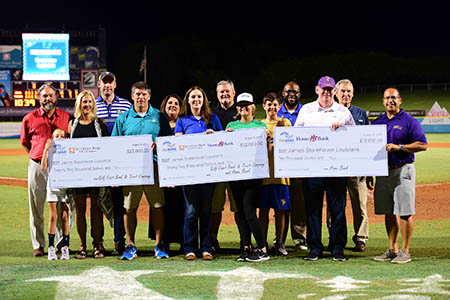 METAIRIE, LOUISIANA, August 12, 2019 — Gulf Coast Bank and Trust, Home Bank and the Federal Home Loan Bank of Dallas (FHLB Dallas) presented $32,000 in Partnership Grant Program (PGP) funds to James Storehouse Louisiana (JSL), which provides supportive services for foster children and their families in the New Orleans, Louisiana, area through services such as mentorship, training, job placement and affordable housing resources. Representatives from the three institutions joined the organization at a check presentation during the 7th inning stretch at a Baby Cakes game.
JSL Founder Kim Bigler plans to allocate the funds toward administrative costs including large expenses such as the purchase of beds, cribs, gift cards, clothes and diapers for clients.
"Foster children cannot be placed in homes without a bed or crib to sleep in," said Ms. Bigler. "The funds from Gulf Coast Bank and Trust, Home Bank and FHLB Dallas will allow us to focus on the kids' well-being and expand our creativity in our mission."
Ms. Bigler learned about the PGP grant from a Home Bank community investment officer during a fundraiser at a Baby Cakes baseball game. This is the organization's first PGP grant.
"Children who have aged out of foster care are among the region's most vulnerable population," said Kim Carver, vice president, governmental operations, at Gulf Coast Bank and Trust Company. "We're honored to help provide valuable resources to the community in tandem with FHLB Dallas through the PGP."
Home Bank Vice President and Community Reinvestment Act Officer Brandon Kelly said the PGP aligns with the bank's values.
"Through its community investment programs such as the PGP, FHLB Dallas has provided us a great vehicle to effect positive change in the community," said Mr. Kelly.
With the PGP, FHLB Dallas member institutions like Gulf Coast Bank and Trust and Home Bank contribute $500 to $4,000 to a community-based organization (CBO), which FHLB Dallas matches at a 3:1 ratio. This year, FHLB Dallas awarded $300,000 in PGP funds through 25 member institutions to assist 27 CBOs. Combined with FHLB Dallas member contributions, a total of $442,500 has been awarded to the organizations. 
"Our members go above and beyond to support the community and we're proud to provide a conduit through which they can do so through the PGP," said Melanie Dill, community and economic development product manager, at FHLB Dallas.
About Gulf Coast Bank and Trust
Gulf Coast Bank and Trust is a $1.6 billion community bank with 19 branches located throughout Southeast Louisiana. The bank is one of the largest home mortgage and small business lenders in New Orleans.
About Home Bank
With 40 locations across South Louisiana and Western Mississippi, Home Bank is committed to serving the needs of its communities. Personal banking has always been Home Bank's trademark, and that tradition continues as the company grows, invests and serves its clients and community. For more information about Home Bank, visit home24bank.com.
About the Federal Home Loan Bank of Dallas
The Federal Home Loan Bank of Dallas is one of 11 district banks in the FHLBank System created by Congress in 1932. FHLB Dallas, with total assets of $74.5 billion as of June 30, 2019, is a member-owned cooperative that supports housing and community investment by providing competitively priced loans and other credit products to approximately 820 members and associated institutions in Arkansas, Louisiana, Mississippi, New Mexico and Texas. For more information, visit fhlb.com.
---
Contact Information:
Corporate Communications
Federal Home Loan Bank of Dallas
fhlb.com
214.441.8445