---
AHP Grant to Fund Housing for Young Adults Transitioning out of Foster Care
Simmons Bank and FHLB Dallas Provided $240K in Affordable Housing Program to Rehab Apartments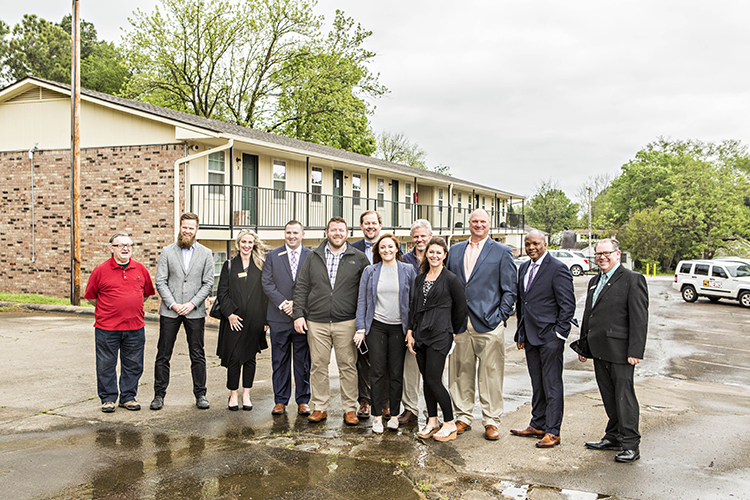 FORT SMITH, ARKANSAS, April 19, 2019 — The statewide crisis of children being unable to find stable housing after surpassing the foster care age limit, will soon see some relief as Fort Smith-based Children's Emergency Shelter plans to introduce new apartments for young adults to the community. Through its independent living program, GetREAL24 (GR24), Children's Emergency Shelter will expand its housing opportunities by converting Brentwood Apartments into a 24-unit property that will provide housing, life skills training and a mentoring program for youth that have aged out of foster care.
 Yesterday, the shelter and its staff joined representatives from Simmons Bank and Federal Home Loan Bank of Dallas (FHLB Dallas) to commemorate the beginning of renovations at Brentwood Apartments. In 2018, the banks awarded the shelter a $240,000 Affordable Housing Program (AHP) grant to help fund renovations.
 The AHP funds will be used toward appliance replacements in kitchens and bathrooms, new countertops, new floors, installing new electrical outlets, installing new LED light fixtures and repairing or replacing heating, ventilation and air condition (HVAC) systems.
 Children's Emergency Center serves area children between ages 6 to 17, who have been removed from their home by the Department of Human Services due to neglect and/or abuse. Its GR24 program will provide one-bedroom apartment units for eligible young adults that will equip them with the life skills to successfully transition into adulthood.
 Children's Emergency Shelter Director of Development Ashley Fitzhugh explained that the AHP grant will give the shelter an opportunity to update the units to a quality level that would not have been possible if it were not for the grant. "The majority of these young adults have grown up in the foster care system. Therefore, their early years were filled with inconsistencies, and they may not have gained key life skills," Ms. Fitzhugh said. "Programs like the AHP are essential to our ability to provide a safe and stable home for foster youth who, statistically, without GR24, would be homeless, hungry or incarcerated."
 Rodney West, community president for Simmons Bank, says the renovated apartments for aged out foster youth is an innovative way to educate and prepare them for the real world.
 "It is important for us to do as much as we can to prepare young adults transitioning from foster care to life on their own to be self-sufficient," Mr. West said. "Through our partnership with FHLB Dallas and access to the AHP, we can make a real impact in bringing this project to fruition."
 AHP grants are intended to assist members in financing the purchase, construction and/or rehabilitation of owner-occupied, rental, transitional housing, as well as housing for homeless individuals in the community. The funds must be used to benefit households with incomes at or below 80 percent of the median income for the area.
 In 2018, FHLB Dallas awarded $14 million in grants to 29 affordable housing projects. The grants helped create 1,853 new or rehabilitated housing units. In Arkansas alone, the bank allocated $536,250 toward 39 units.
"Simmons Bank's commitment to serving and uplifting its communities is evident in the initiatives in which it chooses to take part," said Bruce Hatton, vice president and Affordable Housing Program manager at FHLB Dallas. "We are honored to partner with them to help address the shortage in shelter for young adults from Arkansas who have aged out of the foster care system."
For more information on the AHP, please visit www.fhlb.com/ahp.
About Simmons Bank
Simmons Bank is an Arkansas state-chartered bank that began as a community bank in 1903. Through the decades, Simmons has developed a full suite of financial products and services designed to meet the needs of individual consumers and business customers alike. Simmons has grown steadily to approximately $16.5 billion in assets (as of Dec. 31, 2018) and today operates approximately 200 branch locations throughout Arkansas, Colorado, Kansas, Missouri, Oklahoma, Tennessee and Texas. Simmons is the subsidiary bank for Simmons First National Corporation (NASDAQ: SFNC), a publicly traded bank holding company headquartered in Pine Bluff, Arkansas. For more information, visit http://www.simmonsbank.com/
About the Federal Home Loan Bank of Dallas
The Federal Home Loan Bank of Dallas is one of 11 district banks in the FHLBank system created by Congress in 1932. FHLB Dallas, with total assets of $72.8 billion as of December 31, 2018, is a member-owned cooperative that supports housing and community development by providing competitively priced advances and other credit products to approximately 825 members and associated institutions in Arkansas, Louisiana, Mississippi, New Mexico and Texas. Visit fhlb.com for more information.
---
Contact Information:
Corporate Communications
Federal Home Loan Bank of Dallas
fhlb.com
214.441.8445