---
$32K PGP Grant Awarded to Northshore Housing Initiative
Five Banks Partnered to Provide Partnership Grant Program Funds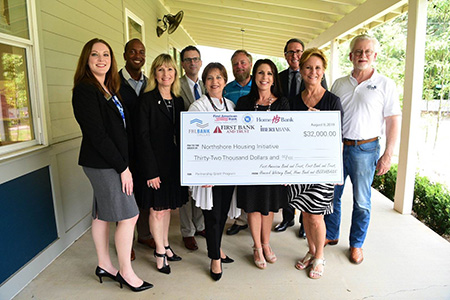 COVINGTON, LOUISIANA, August 12, 2019 — Home Bank, Hancock Whitney Bank, First American Bank and Trust, First Bank and Trust, IBERIABANK and the Federal Home Loan Bank of Dallas (FHLB Dallas) presented $32,000 in Partnership Grant Program (PGP) funds to Northshore Housing Initiative, which provides programs to benefit low- to moderate-income homebuyers in St. Tammany Parish, Louisiana. Representatives from the banks joined the organization at a check presentation on Friday in Covington.
Jennifer Dexter, executive director of Northshore Housing Initiative said the funds will go toward operating costs such as rent, insurance and taxes.
"Most often we struggle to find the operational support we need to fulfill our mission," said Ms. Dexter. "We really want to thank Home Bank, Hancock Whitney Bank, First American Bank, First Bank and Trust, IBERIABANK and FHLB Dallas for the funds, believing us, supporting us and bringing awareness to the community."
The funds are important in meeting the rising costs of financing affordable housing in the area, said St. Tammany Parish President Pat Brister. Ms. Brister, who also serves on the FHLB Dallas Board of Directors, spoke at a ceremonial check presentation Friday.
"The Federal Home Loan Bank of Dallas and its members have been such great supporters in helping us meet the affordable housing needs in St. Tammany Parish," said Ms. Brister. "Unfortunately, our land costs have risen so quickly that securing affordable housing is even more difficult now. We're so thankful that these banks participate in the PGP. It means so much for the families served by the Northshore Housing Initiative."
Ms. Dexter learned about the PGP grant through the organization's former executive director who walked her through the application process. This will be Northshore Housing Initiative's third PGP award.
"Providing support to NHI's mission of affordable workforce housing in the St. Tammany community is needed more than ever considering our community's rising home prices," said Home Bank's Community Reinvestment Act Officer Brandon Kelly.
Hancock Whitney Bank Assistant Vice President of Community Affairs, Ashley Aubrey Harrison, said the bank believes NHI has a strong model to keep homeownership affordable.
"Homeownership will be possible for so many future generations under NHI's shared equity model leading to permanent affordability," Ms. Harrison said.
Derek Matherne, vice president at First American Bank and Trust, said NHI is providing a better future for the families of St. Tammany Parish.
"Northshore residents can finally purchase their own home, providing a safer place for their families to live," said Mr. Matherne.
Duane Abadie, president of First Bank and Trust, said the bank is a true supporter in homeownership and building stable communities.
"The American Dream is now an achievable goal for many families, and we are grateful to support NHI's mission to make that happen," Mr. Abadie said.
Robyn Kline, vice president and relationship manager at IBERIABANK, said the bank has always been a supporter of community investment.
"IBERIABANK is honored to serve the community in any way possible. We continue to invest in low- to moderate-income areas, and we are proud to work with Northshore Housing Initiative to bring awareness and increase the accessibility and affordability in St. Tammany Parish," said Ms. Kline.
With the PGP, FHLB Dallas member institutions like Gulf Coast Bank and Trust and Home Bank contribute $500 to $4,000 to a community-based organization (CBO), which FHLB Dallas matches at a 3:1 ratio. This year, FHLB Dallas awarded $300,000 in PGP funds through 25 member institutions to assist 27 CBOs. Combined with FHLB Dallas member contributions, a total of $442,500 has been awarded to the organizations.
"A huge thanks to our member institutions Home Bank, Hancock Whitney Bank, First American Bank and Trust, First Bank and Trust and IBERIABANK," said Melanie Dill, community and economic development product manager at FHLB Dallas. "FHLB Dallas is proud to partner with these institutions, which have taken a leading role in improving affordable housing options for Northshore residents."
To learn more about the PGP, visit fhlb.com/pgp
About Home Bank
With 39 locations across South Louisiana and Western Mississippi, Home Bank is committed to serving the needs of its communities. Personal banking has always been Home Bank's trademark, and that tradition continues as the company grows, invests and serves its clients and community. For more information about Home Bank, visit home24bank.com.
About Hancock Whitney
Since the late 1800s, Hancock Whitney has embodied core values of Honor & Integrity, Strength & Stability, Commitment to Service, Teamwork, and Personal Responsibility. Part of Hancock Whitney Corporation's Gulf South financial services family, bank offices and financial centers in Mississippi, Alabama, Florida, Louisiana, and Texas offer comprehensive financial products and services, including traditional and online banking; commercial and small business banking; private banking; trust and investment services; healthcare banking; certain insurance services; and mortgage services. The company also operates a loan production office in Nashville, Tennessee. BauerFinancial, Inc., the nation's leading independent bank rating and analysis firm, consistently recommends Hancock Whitney as one of America's most financially sound banks. More information is available at hancockwhitney.com.
About First American Bank and Trust
First American Bank and Trust is closely tied to the businesses, organizations and citizens in each community it serves. A commitment to providing the highest quality of financial services to communities through Southeast Louisiana for over 100 years has allowed the bank to grow to twenty-five offices extending through the Parishes of St. James, Ascension, Assumption, East Baton Rouge, Jefferson, Lafourche, St. Charles, St. John, St. Tammany, Tangipahoa and Terrebonne. With approximately $918 million in assets, First American Bank and Trust employs over 200 people who live in the communities in which they work.
About First Bank and Trust
With approximately $990 million in assets, First Bank and Trust is a state-chartered bank based in New Orleans, Louisiana, with banking and mortgage locations throughout South Louisiana, Mississippi and Florida.
About IBERIABANK
IBERIABANK Corporation is a financial holding company with 324 combined locations, including 191 bank branch offices and three loan production offices in Louisiana, Arkansas, Tennessee, Alabama, Texas, Florida, Georgia, South Carolina, North Carolina, Mississippi, Missouri, and New York, 29 title insurance offices in Arkansas, Tennessee and Louisiana, and mortgage representatives in 83 locations in 12 states.
About the Federal Home Loan Bank of Dallas
The Federal Home Loan Bank of Dallas is one of 11 district banks in the FHLBank System created by Congress in 1932. FHLB Dallas, with total assets of $74.5 billion as of June 30, 2019, is a member-owned cooperative that supports housing and community investment by providing competitively priced loans and other credit products to approximately 820 members and associated institutions in Arkansas, Louisiana, Mississippi, New Mexico and Texas. For more information, visit fhlb.com.
---
Contact Information:
Corporate Communications
Federal Home Loan Bank of Dallas
fhlb.com
214.441.8445