---
HAVEN Grant Helps Coast Guard Veteran with Home Repairs
ARVEST Bank and FHLB Dallas Provide Funds Needed for Home Renovation
WEST FORK, ARKANSAS, August 30, 2018 — Retired Petty Officer Second Class Jared Bishop remembers his early days in the Coast Guard clearly. It was the summer of 2001 and Mr. Bishop, then 20 years old, was eager to start his technical training in electronics.
"Then 9/11 happened," explained Mr. Bishop, now 37. "My training was postponed, but I eventually got what felt like two years of training in a six-month period."
Part of Mr. Bishop's job in the Coast Guard was to protect U.S. natural resources, which is what he did while stationed in Kodiak, Alaska, early in his 12-year career. As part of the law enforcement team in Alaska, he was entrusted with protecting the Trans-Alaska Pipeline System, which connects the oil fields of Prudhoe Bay in northern Alaska with the harbor at Valdez, approximately 800 miles to the south.
Several years later, in 2013, Mr. Bishop was medically retired from the Coast Guard after sustaining two traumatic brain injuries in the same month while stationed in Hawaii. The injuries caused him to experience seizures, preventing him from working. His wife, Naleen, is his full-time caretaker.
The Bishops get by on Mr. Bishop's retirement pay from the Coast Guard, as well as Social Security. The two-bedroom home they share with their 14-year-old son and 12-year-old daughter started to fall into disrepair, showing signs of electrical and plumbing issues.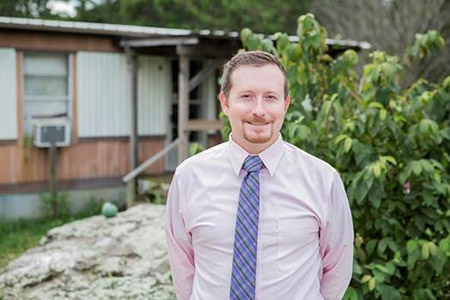 "The sink was leaking, our bathtub was cracked and had a hole in it and the ceiling fan was about to fall out of the ceiling," said Mr. Bishop.
A $7,262.50 Housing Assistance for Veterans (HAVEN) grant provided by the Federal Home Loan Bank of Dallas (FHLB Dallas) and ARVEST Bank provided the funding to repair the electrical and plumbing issues in Mr. Bishop's home.
Virgil Miller, group Community Reinvestment Act director of ARVEST Bank, said helping veterans through the HAVEN is very important to the bank's mission.
"When you help a veteran through this program, it is very special," said Mr. Miller. "The HAVEN grant is a small token to thank Mr. Bishop for the sacrifices he has made to keep us safe and secure and for his service."
Kate Porter, rehab program manager at Crawford-Sebastian Community Development Council (CSCDC), helped Mr. Bishop with the application process. Mr. Bishop originally reached out to the organization to help weatherize his home. Upon further inspection, Ms. Porter realized he was a perfect candidate for a HAVEN grant.
"I absolutely love programs like HAVEN," said Ms. Porter. "To be able to help someone create a better living environment for themselves and their family is such a great feeling."
HAVEN is a unique grant program offered by FHLB Dallas through its member institutions, such as ARVEST Bank, that reaches out to veterans and active-duty service members who have been disabled in the line of duty since September 11, 2001. It provides grants up to $7,500 to support necessary home modifications. To qualify, veterans must also meet income eligibility requirements.
Mr. Bishop said that without the grant, he would have had to do patch work himself over the course of a few years.
"We honestly have no idea what we would have done without the grant," said Mr. Bishop. "This grant could not have come at a more crucial time – it brought my wife and me to tears when we found out we got it."
Bruce Hatton, FHLB Dallas vice president and Affordable Housing Program manager, said HAVEN is an example of how FHLB Dallas and its members, such as ARVEST Bank, partner together to provide local communities with services often not available at nonmember banks.
"Of FHLB Dallas' Community Investment programs, HAVEN is unique because it applies only to those who have served our country in the military," said Mr. Hatton. "Partnering with ARVEST Bank to award this grant is an honor and we look forward to many more years of partnership."
This year, FHLB Dallas has made available through members $75,000 in HAVEN grant funds. The program launched in 2011 with $250,000 set aside for the program.

About Arvest
Arvest Bank, named by Forbes magazine as one of "America's Best Large Employers" for 2017, operates more than 250 bank branches in Arkansas, Oklahoma, Missouri and Kansas through a group of 15 locally managed banks, each with its own board and management team. These banks serve customers in more than 120 communities, with extended weekday banking hours at many locations. Arvest also provides a wide range of banking services including loans, deposits, treasury management, credit cards, mortgage loans and mortgage servicing. Arvest is an Equal Housing Lender and Member FDIC.
About the Federal Home Loan Bank of Dallas
The Federal Home Loan Bank of Dallas is one of 11 district banks in the FHLBank System created by Congress in 1932. FHLB Dallas, with total assets of $75.9 billion as of June 30, 2018, is a member-owned cooperative that supports housing and community investment by providing competitively priced loans and other credit products to approximately 825 members and associated institutions in Arkansas, Louisiana, Mississippi, New Mexico and Texas. For more information, visit fhlb.com.
---
Contact Information:
Corporate Communications
Federal Home Loan Bank of Dallas
fhlb.com
214.441.8445