---
Baton Rouge Community Development Corporation Receives $16K from Hancock Whitney and FHLB Dallas
Funds to be Used for Financial Training Seminars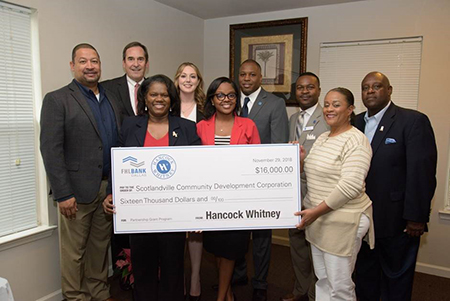 BATON ROUGE, LOUISIANA, November 30, 2018 — Representatives from Hancock Whitney and the Federal Home Loan Bank of Dallas (FHLB Dallas) awarded $16,000 in Partnership Grant Program (PGP) funds to Scotlandville Community Development Corporation (SCDC). This is the organization's first PGP award, which will be used for organizational capacity building, including educational and financial seminars.
SCDC is dedicated to revitalizing the Baton Rouge community through affordable housing, education and economic and social development. The funds will enable the organization to hold seminars to equip local families and individuals with the knowledge they need to succeed.
FHLB Dallas' PGP awards provide 3:1 matches of member contributions to provide grants up to $12,000 that help promote and strengthen relationships between community-based organizations and FHLB Dallas members. The PGP also complements the development activities fostered by FHLB Dallas' Affordable Housing and Community Investment programs.
Hancock Whitney VP and Director of CRA and Community Affairs Sunada Brookins said the PGP is a valuable resource for community-based organizations to contribute positively to the local economy.
"Commitment to the community is at the heart of who we are as a financial institution," said Ms. Brookins. "Strengthening the Baton Rouge community through the PGP reflects Hancock Whitney's core values and reinforces our community partnerships."
In 2018, FHLB Dallas has awarded $300,000 in PGP funds through 31 member institutions to assist 32 community-based organizations. Combined with the $114,010 contributed by FHLB Dallas members, a total of $414,010 has been awarded to the organizations.
"One of the unique facets of the PGP is that FHLB Dallas matches our members' contributions 3 to 1," said Greg Hettrick, first vice president and Community Investment director at FHLB Dallas. "Hancock Whitney can leverage that funding to further impact the community."  
To learn more about the PGP, visit fhlb.com/pgp.
About Hancock Whitney
Since the late 1800s, Hancock Whitney has embodied core values of Honor & Integrity, Strength & Stability, Commitment to Service, Teamwork, and Personal Responsibility. Part of Hancock Whitney Corporation's Gulf South financial services family, bank offices and financial centers in Mississippi, Alabama, Florida, Louisiana, and Texas offer comprehensive financial products and services, including traditional and online banking; commercial and small business banking; private banking; trust and investment services; healthcare banking; certain insurance services; and mortgage services. The company also operates a loan production office in Nashville, Tennessee. BauerFinancial, Inc., the nation's leading independent bank rating and analysis firm, has recommended Hancock Whitney as one of America's most financially sound banks for 29 years in a row. More information is available at www.hancockwhitney.com.
About the Federal Home Loan Bank of Dallas
The Federal Home Loan Bank of Dallas is one of 11 district banks in the FHLBank system created by Congress in 1932. FHLB Dallas, with total assets of $73.7 billion as of September 30, 2018, is a member-owned cooperative that supports housing and community development by providing competitively priced advances and other credit products to approximately 825 members and associated institutions in Arkansas, Louisiana, Mississippi, New Mexico and Texas. Visit fhlb.com for more information.
---
Contact Information:
Corporate Communications
Federal Home Loan Bank of Dallas
fhlb.com
214.441.8445