FHLB Dallas Member Texas Capital Bank Provides $500 Gift Card to HELP Recipient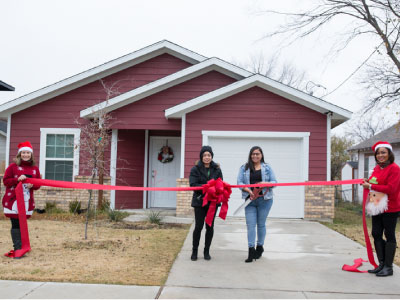 DALLAS, TEXAS, December 16, 2020 - Christina Ruiz wanted to stop renting and purchase a home of her own before her youngest child turned 13 this fall.
Working with the Dallas Area Habitat for Humanity (Dallas Area Habitat), and with the assistance of a $5,500 Homebuyer Equity Leverage Partnership (HELP) subsidy from Texas Capital Bank and the Federal Home Loan Bank of Dallas (FHLB Dallas), she beat the deadline, moving into her Dallas, Texas, home on August 1.
"I feel so thankful to finally be in a home that I can call my own," Ms. Ruiz said. "This experience has allowed me to show my kids how much purchasing a home can mean to a family."
The home purchase was the culmination of a tumultuous journey that began last year with the death of her mother, who helped care for her children while she took on a service manager role at a financial institution. After her mother died, Ms. Ruiz could no longer maintain the rigorous demands of the job.
"Picking up my kids from school was nonnegotiable," the mother of two said. "I wanted to make sure I was there for my kids at all costs."
Ms. Ruiz took a less-demanding role at work that came with a pay cut. She had more flexibility to care for her children, but it was tough scraping together the money for a down payment on a house. "Times got tough and tight," Ms. Ruiz said. "But I was determined to stop renting before my youngest turned 13."
Dallas Area Habitat told her about HELP as a way to offset down payments and closing costs.
"I was ecstatic," Ms. Ruiz recalled. "I was thinking 'How am I going to pay for furniture and other expenses?'"
Thanks to the help of Dallas Area Habitat and the two banks, she is now the proud owner of a three-bedroom, two-bath house in West Dallas. In addition, Texas Capital Bank provided Ms. Ruiz and her family a $500 gift card to a grocery story of their choice as a welcome home gift recently on December 16. FHLB Dallas also pitched in a $500 gift card to Wal-Mart.
"We've helped many families achieve homeownership with the help of FHLB Dallas' HELP subsidies," said Jennifer Guzman, vice president of Community Development for Texas Capital Bank. "This year, with all the adversity we've had, it is even more rewarding to see the Ruiz family obtain a home of their own. We are thrilled to be able to help."
Texas Capital Bank has provided 26 HELP subsidies in 2020. "That's almost three times the number of grants we did in 2019," Ms. Guzman said.
HELP subsidies are offered by FHLB Dallas through its member institutions, like Texas Capital Bank, to assist first-time homebuyers with down payments and closing costs on new or existing homes.
Since the Affordable Housing Program's (AHP) inception in 1990, FHLB Dallas has awarded more than $324 million in AHP and AHP set-aside programs, such as HELP, to assist more than 56,500 households. For 2020, FHLB Dallas has made $4.5 million available in HELP subsidies through its members on a first-come, first-served basis.
"HELP funds can literally make dreams come true for low-income families whose pathway to homeownership is often blocked by down payments and closing costs," said Greg Hettrick, first vice president and director of Community Investment at FHLB Dallas. "We were pleased to work with Texas Capital Bank to help remove those hurdles for the Ruiz family and create one less burden for her family this year as they celebrate the holiday season in their new home."
Visit
fhlb.com/help
to view current availability of HELP funds.