With the Small Business Boost (SBB), Federal Home Loan Bank of Dallas (FHLB Dallas) member financial institutions have a valuable resource to provide gap financing to small businesses that may lack equity, collateral or initial cashflow to qualify for a bank or credit union loan on their own.
SBB is an unsecured, secondary loan program in which FHLB Dallas provides qualified small businesses up to $125,000, in addition to the member's loan. Without the SBB funds, a small business might not meet a member's underwriting criteria. SBB helps to fill the gap and make the transaction bankable. There is no repayment of the SBB funds in the first year of the program, giving new or expanding businesses more time to generate cashflow. Starting in year two, participating members may receive up to 3 percent interest on the SBB loan. In year three forward, FHLB Dallas receives an additional 3 percent interest on the SBB loan making the maximum interest rate 6 percent to the borrower. As the businesses repay their SBB loans, the funds are recycled back into the SBB program to be reinvested into other small businesses.
FHLB Dallas has allocated $2 million in January for the SBB program. In July, an additional $2 million was allocated for a total of $4 million available this year.
Here's an example from the SBB lending guide of how the SBB could be used: A dentist needs a $320,000 expansion but can only invest $60,000 and requests a loan of $260,000. It's a solid deal that the financial institution wants to fund, but underwriting standards require 30 percent cash equity. With the SBB, the deal would work like this: the borrower contributes $60,000; the member institution provides a $224,000 loan and a $36,000 SBB loan to reach the total funding required of $320,000.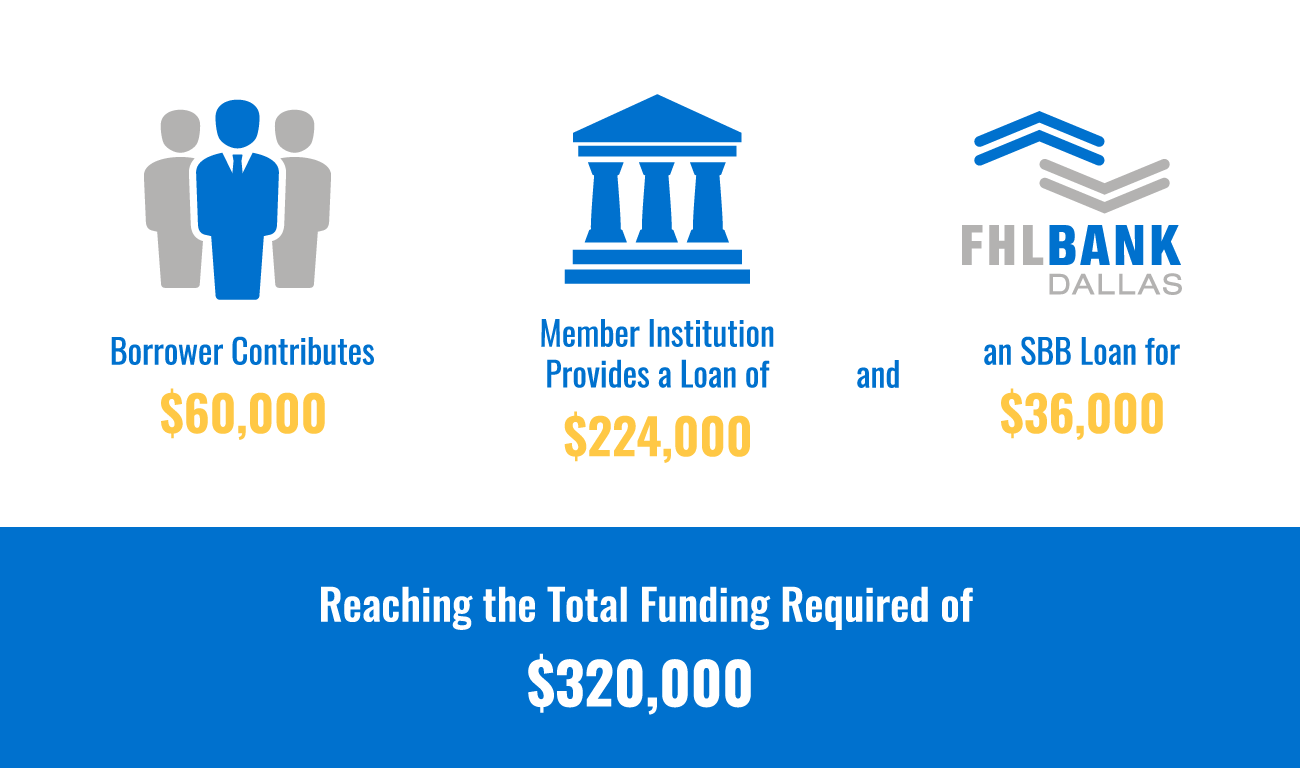 There are multiple advantages to the SBB Program:
An SBB loan reduces member risk exposure because it is provided as a secondary, unsecured loan in conjunction with the loan that is made by the participating member institution.
Members earn interest income of 3 percent beginning in year two of an SBB loan.
Repayments don't begin until year two, which helps improve initial cash flow for a small business.
The program bridges underwriting obstacles to allow members to make loans to qualified businesses that otherwise may not meet a member's lending requirements.
There are no prepayment penalties or application fees.
The SBB can be used in conjunction with other financing sources such as the Small Business Administration.
Funds can be used for a range of startup and expansion funding needs such as building or land purchases, construction, equipment, permanent working capital, facility expansion and related uses.
Each transaction must meet the following guidelines:
The borrower must be qualified as a small business based on Small Business Administration standards.
The member must provide at least 40 percent of total financing to the small business. Extending or modifying existing member debt may be used to meet this requirement. The member is not required to advance additional loan funds to the small business.
The maximum SBB loan amount is $125,000 or 50 percent of the member loan to the small business.
At least one job must be created or retained for every $62,500 in SBB funding.
The member must demonstrate that the loan does not meet their underwriting criteria without the SBB funds.
Businesses may obtain only one SBB loan.
If a deal involves real estate, at least 51 percent of the real estate must be occupied by the small business.
---
Interested? Here are the steps to get started:
Enroll in the SBB program.
Register a business for an SBB loan during an open funding round.
FHLB Dallas will make an eligibility determination within 10 business days.
If approved, the member collects monthly payments from the small business in accordance with an FHLB Dallas-provided amortization schedule.
The member forwards what is due to FHLB Dallas annually, beginning in year two.
FHLB Dallas members have used SBB funds to support a variety of small businesses, helping revitalize countless communities and local economies. Examples include a day care, restaurants, a veterinary clinic, a dentist's office, a pharmacy, a car wash, a car repair shop, a dog kennel and a fitness center. Consider how the SBB could help businesses flourish in the communities you serve. See
fhlb.com/sbb
to see available funds.