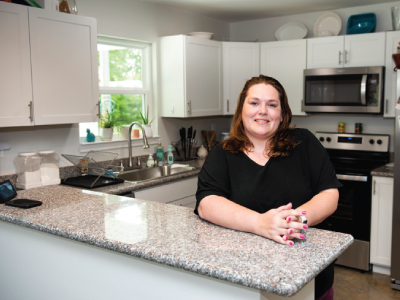 Earlier this year, Brandi Ingram achieved one of her lifelong goals of becoming a first-time homeowner. She was aided by an $8,500 Homebuyer Equity Leverage Partnership (HELP) subsidy offered through Federal Home Loan Bank of Dallas (FHLB Dallas) members, which covers down payment and/or closing costs for eligible homebuyers.
"I did not come from a lot of money," said Ms. Ingram. "I had to really work hard to own my own home. It was an extremely rewarding experience to finally be able to do that. I was able to buy my own home, and not just a house, but a brand-new house that nobody else had lived in before."
Before buying her home, Ms. Ingram was a renter, moving from one rental to the next with her two children.
She first learned about HELP when she applied for a home loan at Renaissance Community Loan Fund, an FHLB Dallas community development financial institution member.
"It really gave me the peace of mind to know that I did not have to worry about the closing costs," Ms. Ingram said. "Without the funds, I would have had to come out of pocket about $7,000 to pay the closing costs completely. That would leave me without any cushion to buy the things I needed for my new home."
FHLB Dallas has set aside $4.5 million of its 2021 Affordable Housing Program funds for HELP. Through member institutions, HELP assists low-income-qualified, first-time homebuyers with down payment assistance and closing costs. FHLB Dallas disburses HELP funds to members on a first-come, first-served basis, one homebuyer at a time.
"Being eligible to participate in HELP as a member of FHLB Dallas has enabled us to provide a lifechanging subsidy to our participants", said Renaissance Community Loan Fund President and CEO Kimberly LaRosa. "It gives the borrowers an extra financial boost needed to close on a home."
Ms. Ingram and her family are thankful for a place they can call their own. She credits HELP for making such a huge difference in her homebuying process.
"It is a place for my kids and I to grow older and be happy in," said Ms. Ingram. "Anybody that is looking to buy a home should look at all of their options and see if they qualify for a program like HELP. It really did make a difference in how fast I was able to get into my house."
Greg Hettrick, first vice president and director of Community Investment at FHLB Dallas, said HELP subsidies make the dream of owning a home possible.
"HELP is a great program that takes care of a portion of the out-of-pocket expenses for eligible homebuyers, who want to put down roots in their communities but have been hindered by the up-front costs associated with buying a home," said Mr. Hettrick. "Thanks to members like Renaissance Community Loan Fund, we're opening the door to homeownership for people who need a little extra help."
To learn more about HELP, visit
fhlb.com/help
.