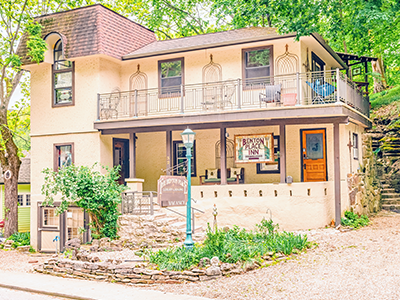 What's the connection between a romantic inn, a poultry farm and a restaurant? All received a loan from a Federal Home Loan Bank of Dallas (FHLB Dallas) member institution that used an Economic Development Program (EDP) advance over the past year to finance the inn, farm and restaurant.
The EDP provides FHLB Dallas members with favorably priced advances to support economic and commercial developments such as new construction, renovation, small business financing, public works projects and historic preservation. And they are available all year.
Community and economic development advances are priced below the rate of a standard FHLB Dallas advance. This is considered a major benefit of each program and and incentive to encourage members to use the advances as competitive advantage to fund development.
The funds can be used to finance projects such as hospitals, nursing homes, poultry farms and retail shops are just a few examples of the types of community-centric businesses that have benefited from EDP advances to help boost local economies.
Program Requirements:
To qualify for an EDP advance, the project must create or retain jobs for employees and meet at least one of the following criteria:


The project is located in a rural area where the majority of household incomes are at or below 115 percent of the area median income (AMI)
​The project is located in an urban area where the majority of household incomes are at or below 100 percent AMI
At least 51 percent of the project's employees have incomes that are at or below 80 percent of the AMI
At least 51 percent of the families who will benefit from the project have incomes at or below 80 percent of the AMI
The project qualifies as a small business as defined by section 3(a) of the Small Business Act (15 U.S.C. 632 (a)) and implemented by the Small Business Administration under 13 CFR part 121, or any successor provisions
The project qualifies as another targeted beneficiary as approved by the Federal Housing Finance Agency
A project will also qualify for an EDP advance if it is located in one of the following targeted areas:


Native American area
Federal or approved state disaster area
Brownfield Tax Credit, an area eligible for a Federal Brownfield Tax Credit
An area impacted by a military base closing
Federal Enterprise Community or Empowerment Zone
EDP advances are noncompetitive. FHLB Dallas members have access to EDP advances throughout the year. They may be fixed-rate or floating-rate, amortizing or nonamortizing. The terms range from three months to 30 years but may not exceed the term of any financing that the member makes to the project. If FHLB Dallas determines that the EDP Advance was improperly used, it may be converted to a comparable market interest rate. EDP advances must be used to finance loans that have closed within the past three months or will originate within the next three months from the date of the commitment.
Please see
fhlb.com/edp
to learn more.