---
Renaissance Community Loan Fund and FHLB Dallas Grant $160K to Eight Mississippi Businesses That Suffered Tornado Damage  
Grants to Help Small Town Businesses Get Up and Running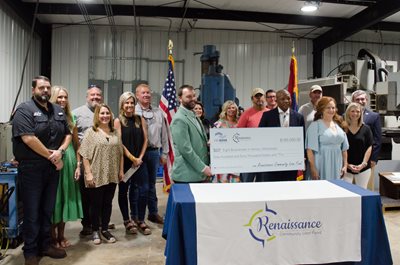 AMORY, MISSISSIPPI, August 28, 2023 — Owners Jody and Hope Powell of Jaco Machine (Jaco) had only been in operation a little more than a year when an EF3 tornado tore through their business in March.

Jaco was one of eight businesses awarded a $20,000 Small Business Recovery Grant from the Federal Home Loan Bank of Dallas (FHLB Dallas) through FHLB Dallas member, Renaissance Community Loan Fund (RCLF).

The funds were presented today during a ceremonial check ceremony at Jaco's location in Amory, Mississippi that was attended by area public officials and business leaders.

"Without the grant, we would really be struggling," Mr. Powell said. "We were relieved when we learned about the funding. It was a tremendous help."

Jaco, which provides fabrication services to the aerospace industry, suffered widespread damage when the tornado tore off its roof, blew out windows, crumpled metal siding and damaged machinery. It was shut down for weeks but is now up and operating.

Some other businesses that were hit and awarded grant funding have still not reopened more than five months after the storm.

"RCLF worked closely with Monroe Chamber of Commerce staff to identify qualifying businesses within the damaged area and to provide assistance in preparing and submitting the grant applications," said John-Michael Marlin, director of lending at RCLF. "The disaster relief funds from FHLB Dallas played a critical role in helping the community move toward recovery, but because of the extensive damage, it's a process that takes time. These businesses want to get back to work, and we're here to help."

Greg Hettrick, senior vice president and director of Community Investment for FHLB Dallas, said RCLF has been on the front lines as an ambassador for the Small Business Recovery Grant.

"Our Small Business Recovery Grant provides a path for businesses to recover a little faster, and RCLF has played an integral part in getting the word out about the grants and how they can help businesses get back to business when their communities need them the most," Mr. Hettrick said.

Small Business Recovery Grants are offered by FHLB Dallas through member financial institutions such as RCLF to provide financing for qualified small businesses affected by natural disasters such as the storms that hit Arkansas and Mississippi earlier this year. FHLB Dallas allocated $2.5 million in Small Business Recovery Grants, with grants up to $20,000 per eligible business, to support at least 125 small businesses in Arkansas and Mississippi. Funds are still available.

About Renaissance Community Loan Fund
Renaissance Community Loan Fund is on a mission to empower people with the skills and information they need to improve their finances. Renaissance can help you go from needing your credit repaired to being ready for a home or business loan. Renaissance Community Loan Fund is a different kind of lender — focused on helping residents in Mississippi and Alabama.

About the Federal Home Loan Bank of Dallas
The Federal Home Loan Bank of Dallas is one of 11 district banks in the FHLBank System created by Congress in 1932. FHLB Dallas, with total assets of $174 billion as of June 30, 2023, is a member-owned cooperative that supports housing and community development by providing competitively priced loans and other credit products to approximately 800 members and associated institutions in Arkansas, Louisiana, Mississippi, New Mexico and Texas. For more information, visit our website at fhlb.com.

 



---
Contact Information:
Corporate Communications
Federal Home Loan Bank of Dallas
fhlb.com
214.441.8445