---
FHLB Dallas Joins Village of Ruidoso for the Opening of a New Mexico Housing Development 
FHLB Dallas Provided $200K to Support Affordable Rental Homes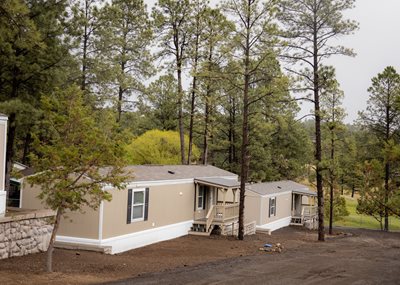 RUIDOSO, NEW MEXICO, May 18, 2023 — Village officials, affordable housing advocates and the Federal Home Loan Bank of Dallas (FHLB Dallas) came together this week to celebrate the opening of a housing development serving low-income residents in the Village of Ruidoso, New Mexico. FHLB Dallas provided a $200,000 donation through the Village's Affordable Housing Bank and Trust following the fatal 2022 McBride Fire.

The funds helped address the immediate housing needs of low-income residents who lost their homes to the April 2022 fire that killed two people and destroyed more than 200 homes. In addition to providing housing to displaced families, the new housing development, called Mechem Meadows, will serve as workforce housing for the area.

"We appreciate the donation from FHLB Dallas that helped our fellow New Mexicans during a difficult time," said Village of Ruidoso City Manager Ron Sena.

The contribution, along with funding from the New Mexico Mortgage Finance Authority, helped support housing and infrastructure costs.

"Helping communities recover after a natural disaster is something we are proud to be able to do, and it's wonderful to combine that effort with this affordable housing initiative," said Greg Hettrick, senior vice president and director of Community Investment for FHLB Dallas.

About the Federal Home Loan Bank of Dallas
The Federal Home Loan Bank of Dallas is one of 11 district banks in the FHLBank System created by Congress in 1932. FHLB Dallas, with total assets of $181.2 billion as of March 31, 2023, is a member-owned cooperative that supports housing and community development by providing competitively priced loans and other credit products to approximately 800 members and associated institutions in Arkansas, Louisiana, Mississippi, New Mexico and Texas. For more information, visit our website at fhlb.com.


---
Contact Information:
Corporate Communications
Federal Home Loan Bank of Dallas
fhlb.com
214.441.8445