---
Family Farm Awarded $20K Grant to Recover from Devastating Tornado
Mississippi Farm Receives Grant for Repairs from FHLB Dallas and BankPlus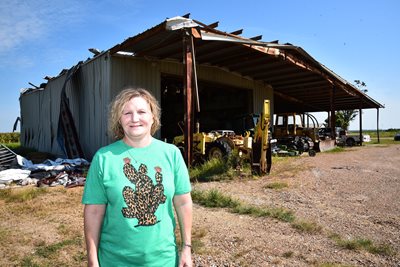 SILVER CITY, MISSISSIPPI, September 1, 2023 — A family farm in the Mississippi Delta received a Federal Home Loan Bank of Dallas (FHLB Dallas) $20,000 Small Business Recovery Grant. The funds were awarded through FHLB Dallas member, BankPlus, to help the farm recover from a March tornado that substantially destroyed the business.

Merrie Butler, a retired paralegal and co-owner of Martin Farms, has lived in Silver City, Mississippi, her whole life. When her father died last year, he left Martin Farms to Ms. Butler and her two sisters. Martin Farms owns 2,400 acres that produces corn, soybeans and cotton. The property includes a horse arena for barrel racing and roping and a shop to repair farming equipment.

On March 24, a tornado hit Silver City and other Southeast cities, killing 26 people. Ms. Butler remained safely hidden in her guest bathroom. But, once the tornado passed, she discovered that her home, the farm shop and farm equipment sustained heavy damage. The barn and horse arena were essentially destroyed.

"With so much destruction you don't know where to turn. As the weeks go by you wonder where to start," Ms. Butler said. "I am so blessed that BankPlus was sent my way. Them reaching out was a tremendous help."

BankPlus, which reached out to small businesses and farmers in the disaster area that were known to have sustained damage, said the Small Business Recovery Grant is helping businesses regain a sense of normalcy.

"The Small Business Recovery grant is an important tool in helping businesses and communities recover and rebuild," said Mark Ouellette, BankPlus senior vice president and director of Affordable Housing Program. "That includes area farms which took a hard hit in the storms."

FHLB Dallas made $2.5 million available in April through its member institutions for eligible businesses to support at least 125 small businesses in Arkansas and Mississippi with grants up to $20,000 each. To date, 101 businesses have received nearly $2 million in assistance. More than $500,000 remains available.

"The support provided through our members such as BankPlus ensures that small businesses like Martin Farms can successfully recover after a disaster," said Greg Hettrick, senior vice president and director of Community Investment at FHLB Dallas.

For more information about disaster programs, visit fhlb.com/disaster-programs.

About BankPlus
Founded in 1909, BankPlus is one of the Southeast's premier regional banks serving consumers and businesses with the latest technology through a full suite of financial services, including retail banking, commercial banking, mortgage lending and wealth management. With over $7.5 billion in total assets, BankPlus operates more than 90 financial centers throughout Mississippi, Alabama, Louisiana, and Florida. For more information about BankPlus, visit www.bankplus.net.

About the Federal Home Loan Bank of Dallas
The Federal Home Loan Bank of Dallas is one of 11 district banks in the FHLBank System created by Congress in 1932. FHLB Dallas, with total assets of $174 billion as of June 30, 2023, is a member-owned cooperative that supports housing and community development by providing competitively priced loans and other credit products to approximately 800 members and associated institutions in Arkansas, Louisiana, Mississippi, New Mexico and Texas. For more information, visit our website at fhlb.com.



---
Contact Information:
Corporate Communications
Federal Home Loan Bank of Dallas
fhlb.com
214.441.8445