---
$10K HAVEN Grant Helps Texas Military Veteran with Home Repairs
First National Bank Texas and FHLB Dallas Award Funds to Veteran Homeowner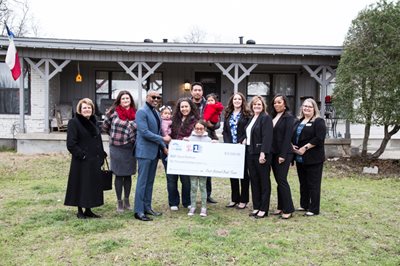 RICHLAND HILLS, TEXAS, February 17, 2023 — Army National Guard veteran David Balderas is reminded daily of his time in the military. The 34-year-old gradually became disabled while serving in Iraq between 2016 and 2018. Mr. Balderas was an aircraft mechanic who troubleshot and repaired helicopter engines until he was physically unable to.

While in the military, Mr. Balderas' duties included climbing up and down helicopters until ligament damage to his shoulders and knees, coupled with back pain, made that impossible. He now occasionally uses a cane to walk. Mr. Balderas currently lives with his wife and three children – a 7-year-old and two 1-year-olds – in a home built during the 1950s with significant foundation issues.

Thanks to a $10,000 Housing Assistance for Veterans (HAVEN) grant from First National Bank Texas (FNBT) and the Federal Home Loan Bank of Dallas (FHLB Dallas), he was able to fund the foundation repairs.

Through member institutions, FHLB Dallas' HAVEN program provides grants to veterans and active-duty, reserve or national guard service members who have been disabled in the line of duty since 9/11. Funds may also be used to assist Gold Star families. Representatives from both banks recently joined Mr. Balderas and his family for a ceremonial check presentation at their home to celebrate the occasion.

"This grant was unexpected, and it saved us. The foundation was in really bad condition, and we lost thousands of dollars in the process of trying to repair it. I don't know where we would be without this assistance," said Mr. Balderas.

In 2022, FNBT and FHLB Dallas awarded $50,000 to five HAVEN recipients in Texas. April Niswonger, assistant vice president at FNBT, said helping veterans is among their community initiatives.

"FNBT is appreciative of the HAVEN program because we understand the challenges our military personnel face when transitioning back to civilian life, and we want to do everything we can to support them," she said.

Greg Hettrick, senior vice president and director of Community Investment at FHLB Dallas, said FNBT's partnership with FHLB Dallas and the veteran community is a true testament to their civic investment.

"FNBT consistently uses HAVEN and looks for unique ways to support their communities," he said.

About First National Bank Texas
First National Bank Texas (FNBT) is dedicated to providing customers with quality financial products and services. The bank was founded in 1901 in the Central Texas town of Killeen and has grown to over $3.7 billion in assets and operates in over 340 locations in Texas, Arizona, Arkansas, and New Mexico.

About the Federal Home Loan Bank of Dallas
The Federal Home Loan Bank of Dallas is one of 11 district banks in the FHLBank System created by Congress in 1932. FHLB Dallas, with total assets of $89.6 billion as of September 30, 2022, serves approximately 800 members and associated institutions across our five-state District of Arkansas, Louisiana, Mississippi, New Mexico and Texas. FHLB Dallas provides financial products and services including advances (loans to members) and grant programs for affordable housing and economic development. For more information, visit our website at fhlb.com.
---
Contact Information:
Corporate Communications
Federal Home Loan Bank of Dallas
fhlb.com
214.441.8445