---
First National Bank and FHLB Dallas Award $435K for Affordable Housing
Funds to Help Finance $10.3M Rental Development for Older Adults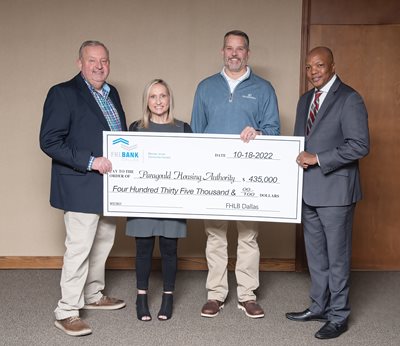 PARAGOULD, ARKANSAS, December 6, 2022 — First National Bank (FNB) and the Federal Home Loan Bank of Dallas (FHLB Dallas) awarded a $435,000 Affordable Housing Program subsidy to Paragould Housing Development Corp. for an older-adult-focused housing development.

The banks celebrated the funding during a ceremonial check presentation Monday at FNB in Paragould, Arkansas.

The development, to be called Hillside Manor, is proposed as a $10.3 million new rental community with 48 units in duplexes serving people who are 55 years old or older and earning no more than 60 percent of the area median income.

"We have about a two-year waiting list in our older population to get them housed in affordable, safe and sanitary homes," said Paragould Housing Authority Executive Director David Lange. "We are thankful for this funding source from FHLB Dallas and FNB."

AHP funds are intended to assist FHLB Dallas members in financing the purchase, construction and/or rehabilitation of owner-occupied, rental or transitional housing, and housing for homeless individuals. The funds must be used to benefit households with incomes at or below 80 percent of the median income for the area.

"It's important for FNB to partner with organizations like the Paragould Housing Authority to serve our community's underserved populations," said FNB Chief Banking Officer Bobby Kasserman. "AHP funding, through FHLB Dallas, made this partnership a reality."

In 2022, FHLB Dallas awarded $17.2 million in subsidies to 26 affordable housing projects to help create or rehabilitate 2,022 housing units, including nearly $1.2 million for 228 units in Arkansas.

Greg Hettrick, first vice president and director of Community Investment at FHLB Dallas, said the AHP, in combination with FHLB Dallas members, is known for helping at-risk populations, including the aging population.

"Our partnership with our member, FNB, and its support of Paragould Housing Authority will help meet a critical housing need in the community," he said.

For more information about the AHP, visit fhlb.com/ahp.

About First National Bank
FNB has 23 offices in 15 cities in Arkansas and Tennessee. FNB began as the Bank of Paragould in March 1889. In 1903, its name changed to First National Bank. In 2021, FNB expanded into middle Tennessee with branches in Hartsville, Gallatin and Hendersonville. As a bank, First National Bank has grown to over $2 billion dollars in total assets.

About the Federal Home Loan Bank of Dallas
The Federal Home Loan Bank of Dallas is one of 11 district banks in the FHLBank System created by Congress in 1932. FHLB Dallas, with total assets of $89.6 billion as of September 30, 2022, is a member-owned cooperative that supports housing and community development by providing competitively priced loans and other credit products to approximately 800 members and associated institutions in Arkansas, Louisiana, Mississippi, New Mexico and Texas. For more information, visit our website at fhlb.com.





---
Contact Information:
Corporate Communications
Federal Home Loan Bank of Dallas
fhlb.com
214.441.8445