---
First Financial Bank and FHLB Dallas Award $16K to Fort Worth Nonprofit
Community Frontline Awarded Partnership Grant Program Funds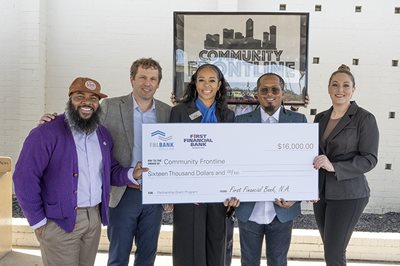 FORT WORTH, TEXAS, October 19, 2022 — First Financial Bank, N.A. (First Financial), and the Federal Home Loan Bank of Dallas (FHLB Dallas) awarded Community Frontline with $16,000 in Partnership Grant Program (PGP) funds. The partners joined to award the grants during a ceremonial check presentation at Community Frontline's offices in Fort Worth, Texas.

Community Frontline is a community-focused nonprofit that concentrates on racial justice, police/community relations, mentoring, education and community development. It will use the grant proceeds to build organizational capacity and cover salary expenses.

"All of us at Community Frontline are grateful to First Financial and FHLB Dallas for their partnership and financial support as we work to promote racial justice," said Community Frontline President Dante Williams.
Marcus Morris, president and CEO at First Financial Bank, Fort Worth Region, said the partnership with FHLB Dallas increased the impact.

"First Financial is proud to partner with FHLB Dallas to provide Community Frontline with resources to further its important mission in the community," Mr. Morris said.

In 2022, FHLB Dallas and its members provided nearly $559,000 in PGP funds to 38 community organizations in its five-state District of Arkansas, Louisiana, Mississippi, New Mexico and Texas. See the complete list of the grant recipients and visit fhlb.com/pgp to learn more.

"FHLB members are incredible community partners with first-hand knowledge of the communities they serve. We appreciate our partnership with First Financial Bank to distribute PGP proceeds to further their work in the community," said Greg Hettrick, first vice president and director of Community Investment at FHLB Dallas.

About First Financial Bankshares:
Headquartered in Abilene, Texas, First Financial Bankshares, Inc. is a financial holding company that through its subsidiary, First Financial Bank, N.A., operates multiple banking regions with 78 locations in Texas. The Company also operates First Financial Trust & Asset Management Company, N.A., with eight locations and First Technology Services, Inc., a technology operating company.

About the Federal Home Loan Bank of Dallas
The Federal Home Loan Bank of Dallas is one of 11 district banks in the FHLBank System created by Congress in 1932. FHLB Dallas, with total assets of $77.7 billion as of June 30, 2022, serves approximately 800 members and associated institutions across our five-state District of Arkansas, Louisiana, Mississippi, New Mexico and Texas. FHLB Dallas provides financial products and services including advances (loans to members) and grant programs for affordable housing and economic development. For more information, visit our website at fhlb.com.
---
Contact Information:
Corporate Communications
Federal Home Loan Bank of Dallas
fhlb.com
214.441.8445