---
Homeowner Receives Hurricane Recovery Help
Hancock Whitney and FHLB Dallas Provide Nearly $10K for Home Repairs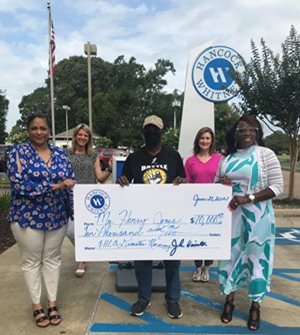 NATCHITOCHES, LOUISIANA, September 16 — The devastation caused by Hurricane Ida is nothing new to 68-year-old Henry Jones, who is thankful Ida's recent fury didn't reach him in Clarence, Louisiana, a small village in north central Louisiana.

He wasn't so lucky last year when Hurricane Laura barreled through and caused extensive damage to his home, so much that he had to temporarily evacuate and stay with a relative. But, thanks to disaster recovery funds from the Federal Home Loan Bank of Dallas' (FHLB Dallas) and Hancock Whitney, his home was fully repaired.

Mr. Jones received a $9,890 subsidy earlier this year to fund the repairs. The funding was part of FHLB Dallas' Disaster Rebuilding Assistance program and was provided through Hancock Whitney, a member of FHLB Dallas.

The subsidy covered a new roof and replacement of damaged sheetrock and wood paneling. The work was completed this spring.

Mr. Jones said he was trying to figure out how to fund repairs and was coming up empty when a Hancock Whitney employee, who attends his church, told him the Disaster Rebuilding Assistance program might be an option for him.

"I really appreciate it, and thank God these funds were available because I don't know how I would have made the repairs without this help," Mr. Jones said.

The Disaster Rebuilding Assistance program provides funds for the repair and rehabilitation of owner-occupied housing affected by a federally declared disaster within FHLB Dallas' five-state District.

Hancock Whitney was among many FHLB Dallas members who participated in the program to assist residents impacted by natural disasters. Several hurricanes in 2020 resulted in high demand for the funding.

"It feels good to be able to help homeowners who really suffered after several hurricanes hit our communities last year," said LaCarsha Babers, assistant vice president and community development officer at Hancock Whitney. "We appreciate our partnership with FHLB Dallas in providing these funds."

In 2021, FHLB Dallas set aside $500,000 for Disaster Rebuilding Assistance. The funds are disbursed through member institutions like Hancock Whitney on a first-come, first-served basis, one homeowner at a time.

"Natural disasters have the potential to cause great stress and suffering within affected communities," said Greg Hettrick, first vice president and director of Community Investment at FHLB Dallas. "Partnerships such as this one with Hancock Whitney make a positive impact on people like Mr. Jones, who no longer need to worry about costly home repairs."

About Hancock Whitney
Since the late 1800s, Hancock Whitney has embodied core values of Honor & Integrity, Strength & Stability, Commitment to Service, Teamwork, and Personal Responsibility. Hancock Whitney offices and financial centers in Mississippi, Alabama, Florida, Louisiana, and Texas offer comprehensive financial products and services, including traditional and online banking; commercial and small business banking; private banking; trust and investment services; healthcare banking; certain insurance services; and mortgage services. The company also operates a loan production office in Nashville, Tennessee. BauerFinancial, Inc., the nation's leading independent bank rating and analysis firm, consistently recommends Hancock Whitney as one of America's most financially sound banks. More information is available at www.hancockwhitney.com.

About the Federal Home Loan Bank of Dallas
The Federal Home Loan Bank of Dallas is one of 11 district banks in the FHLBank System created by Congress in 1932. FHLB Dallas, with total assets of $58.6 billion as of June 30, 2021, is a member-owned cooperative that supports housing and community development by providing competitively priced loans and other credit products to approximately 800 members and associated institutions in Arkansas, Louisiana, Mississippi, New Mexico and Texas. For more information, visit our website at fhlb.com.



---
Contact Information:
Corporate Communications
Federal Home Loan Bank of Dallas
fhlb.com
214.441.8445