---
Greater Killeen Housing Alliance Receives $700K for Public Housing Rehab
Home Federal Bank and FHLB Dallas Funds to Help Provide Extensive Improvements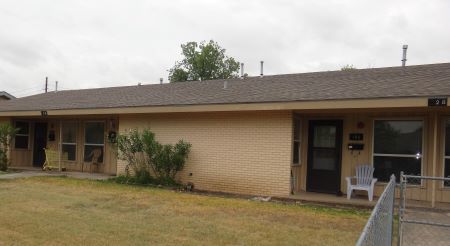 KILLEEN, TEXAS, January 19, 2021 – Home Federal Bank and the Federal Home Loan Bank of Dallas (FHLB Dallas) have awarded a $700,000 Affordable Housing Program (AHP) subsidy to the Greater Killeen Housing Alliance, an affiliate of Killeen Housing Authority, to be used toward a $15 million renovation of a public housing complex.

Built in 1965, High View Place was the first racially integrated, federally funded public housing complex in Killeen, Texas. The development contains 27 buildings with single, duplex and quad-plex structures. A majority of the families residing at High View are older adults and/or disabled.

"This is an extensive renovation that will transform this historic housing development into homes that instill a sense of community for all of High View Place's residents," said DeAdra Tatum, president of the Killeen Housing Authority. The renovation includes sewer, plumbing, heating and air upgrades. It also will provide new appliances, cabinets and finishes in the complex's 70 units.

"We are thrilled to be a part of bringing this historic property into the modern-day era," said Home Federal Bank Senior Vice President K. Matthew Sawrie.

AHP funds are intended to assist FHLB Dallas members in financing the purchase, construction and/or rehabilitation of owner-occupied, rental or transitional housing and housing for homeless individuals. AHP funds must be used to benefit households with incomes at or below 80 percent of the median income for the area.

For 2020, FHLB Dallas awarded $19.3 million in subsidies to 38 affordable housing projects. The funds will help create 2,749 new or rehabilitated housing units. Included in that total, is $10.2 million in subsidies for 1,475 units of housing in Texas.

Since the AHP's inception in 1990, FHLB Dallas has awarded more than $323 million in AHP and Homeownership Set-Aside Programs and has assisted more than 57,000 households.

"Home Federal Bank is making a significant impact on the communities it serves with AHP funds, and we are pleased to be partnering with them on these worthy projects," said Greg Hettrick, first vice president and director of Community Investment at FHLB Dallas.

For more information about the AHP, visit fhlb.com/ahp.

About Home Federal Bank

Locally managed and headquartered in Shreveport, Louisiana since 1924, Home Federal Bank's prudent and responsible business practices have kept us strong, stable and fully capitalized. HFB has successfully endured the test of time: becoming one of the first banks in northwest Louisiana to make loans; and becoming the first locally traded company on the NASDAQ during an ongoing global recession, which followed the financial crisis of 2007. For more information, visit https://www.hfbla.com/.

About the Federal Home Loan Bank of Dallas

The Federal Home Loan Bank of Dallas is one of 11 district banks in the FHLBank System created by Congress in 1932. FHLB Dallas, with total assets of $66.3 billion as of September 30, 2020, is a member-owned cooperative that supports housing and community development by providing competitively priced loans and other credit products to approximately 800 members and associated institutions in Arkansas, Louisiana, Mississippi, New Mexico and Texas. For more information, visit our website at fhlb.com.



---
Contact Information:
Corporate Communications
Federal Home Loan Bank of Dallas
fhlb.com
214.441.8445