---
FHLB Dallas Donates $500K to Greater New Orleans Foundation
Foundation to Assist Nonprofits with Hurricane Ida Recovery Efforts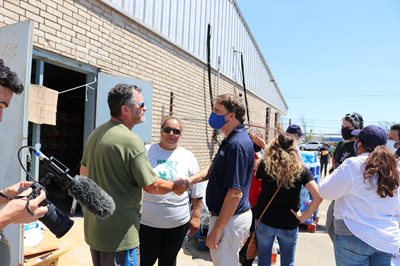 DALLAS, TEXAS, September 28, 2021 – The Federal Home Loan Bank of Dallas (FHLB Dallas) donated $500,000 to the Greater New Orleans Foundation (Foundation) to assist with its Hurricane Ida recovery efforts.

FHLB Dallas is a member-owned financial institution cooperative with approximately 800 members across five states, including banks and credit unions and their customers who were impacted by Hurricane Ida.

"Hurricane Ida devastated the southern portion of Louisiana, and the rebuilding and recovery effort will take months and years," said Greg Hettrick, first vice president and director of Community Investment at FHLB Dallas. "We hope this donation to the Greater New Orleans Foundation, which has extensive expertise in this area that includes work in the aftermath of 2005's Hurricane Katrina, will assist in those long-term efforts."

The Foundation plans to use the funding to assist in the region's disaster response, said Kenneth St. Charles, vice president for philanthropy at the Foundation. He said the Foundation will provide monetary support to nonprofit agencies in a 13-parrish region.

"We thank FHLB Dallas for its generous donation to assist us in making these lifesaving grants to agencies that are helping with the response and recovery," he said.

The Foundation has already allocated more than $1.8 million in Hurricane Ida aid, Dr. St. Charles said, and the latest assistance comes at a critical time.

"We are seeing needs that are immediate and extremely critical as they relate to families that have lost their homes because of flooding," he said. "The needs are basic such as food, shelter, cleaning supplies, diapers and blue tarps to cover damaged roofs. We are also seeing needs from families who had to relocate to a safe place, from the elderly who may lack resources, and from homeowners needing help filing insurance claims."

He said organizations coming together are making a difference.

"Because of the generosity of funders such as FHLB Dallas, we can do this work with the help of a network of nonprofit partners; I invite everyone who has that focus to reach out to us," Dr. St. Charles said.

In addition to the donation to the Foundation, FHLB Dallas made $500,000 in donations to other charitable agencies in the region, including food banks. FHLB Dallas has also made available, through its member institutions, $2.5 million in Hurricane Recovery Grant program funds, which assist members' employees who were impacted by the disaster; an additional $500,000 through members via its Disaster Rebuilding Assistance program, which provides repair and rehab funding for qualified owner-occupied housing; and low-cost advances (loans) to members through its Disaster Relief Program.

About the Greater New Orleans Foundation
With roots extending nearly 100 years, the Greater New Orleans Foundation has over 1,000 different philanthropic funds and assets of $460 million. The Foundation serves the 13-parish region of Southeast Louisiana including Assumption, Lafourche, Terrebonne, St. Charles, St. James, St. John, St. Tammany, Jefferson, Orleans, Plaquemines, St. Bernard, Tangipahoa, and Washington. Over 900 nonprofits from the region participate in its annual online giving day, GiveNOLA Day, which has raised over $40 million for nonprofits in the last eight years. The Greater New Orleans Foundation has responded to every disaster since Hurricane Katrina, when it led the Unified Community Planning Effort and a $23 million affordable housing fund. More recently, it raised and distributed nearly $7 million in response to the COVID-19 pandemic. In response to Hurricane Ida, the Foundation has already raised over $4 million from more than 1,100 individual donors, corporations, and foundations and has dispersed funds to help nonprofits pre-position for Hurricane Ida response efforts.

About the Federal Home Loan Bank of Dallas
The Federal Home Loan Bank of Dallas is one of 11 district banks in the FHLBank System created by Congress in 1932. FHLB Dallas, with total assets of $58.6 billion as of June 30, 2021, is a member-owned cooperative that supports housing and community development by providing competitively priced loans and other credit products to approximately 800 members and associated institutions in Arkansas, Louisiana, Mississippi, New Mexico and Texas. For more information, visit our website at fhlb.com.


---
Contact Information:
Corporate Communications
Federal Home Loan Bank of Dallas
fhlb.com
214.441.8445