---
Community Development Center Receives $170K for Rental Rehab
Southern Bancorp Bank and FHLB Dallas Funds Will Renovate 17 Apartment Units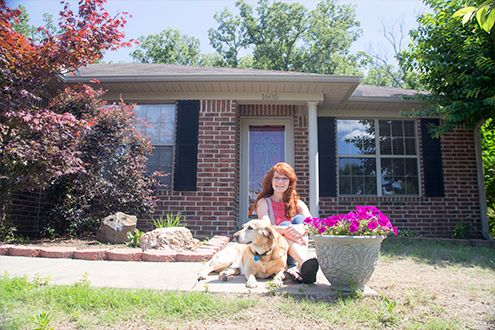 MARVELL, ARKANSAS, February 22, 2021 – Southern Bancorp Bank and the Federal Home Loan Bank of Dallas (FHLB Dallas) have awarded a $170,000 Affordable Housing Program (AHP) subsidy to Boys, Girls, Adult Community Development Center (BGACDC) to rehabilitate 17 apartment units.

The AHP funds will be used to upgrade the heating and air conditioning systems in a five-plex and 12 other apartment units.

"These upgrades will help residents save money on utilities and make the units sustainable at relatively lower costs," said Beatrice Shelby, BGACDC executive director. Besides providing affordable rental housing, BGACDC also provides social, economic, recreational and educational services for low- to moderate-income African-American residents via its community center and related initiatives.

The $250,000 rental rehabilitation project includes restructuring existing debt and putting rehabilitated units back on the tax rolls. The AHP subsidy will help cover some of the costs, and every resident's upgrades will cost about $1,450.

Nathan Pittman, Southern Bancorp Bank senior vice president, said the bank is more than happy to help BGACDC's residents.

"Funding for affordable rental housing repairs and upgrades is scarce," said Mr. Pittman. "FHLB Dallas' subsidy allows nonprofit housing agencies like BGACDC to improve housing conditions for their residents. This allows
BGACDC to continue its focus on offering educational and other services in its rural community."

AHP funds are intended to assist FHLB Dallas members in financing the purchase, construction and/or rehabilitation of owner-occupied, rental or transitional housing and housing for homeless individuals. AHP funds must be used to benefit households with incomes at or below 80 percent of the median income for the area.

In 2020, FHLB Dallas awarded $19.3 million in grants to 38 affordable housing projects. The grants will help create 2,749 new or rehabilitated housing units. Included in that total are $545,000 in grants for 63 units of housing in Arkansas. Since the AHP's inception in 1990, FHLB Dallas has awarded more than $323 million in AHP and Homeownership Set-Aside Programs and has assisted more than 57,000 households.

"The AHP is a great tool because organizations can benefit from it in many ways," said Greg Hettrick, first vice president and director of Community Investment at FHLB Dallas. "FHLB Dallas is honored to partner with
Southern Bancorp Bank to provide affordable housing opportunities in the Marvell community."

For more information about the AHP, visit fhlb.com/ahp.

About Southern Bancorp, Inc.
Founded in 1986 by some of the nation's leading political, business, and philanthropic leaders with an initial investment of $10 million, Southern Bancorp, Inc., along with its development partners – Southern Bancorp Bank and Southern Bancorp Community Partners, has grown into a $1.7 billion asset organization with 49 locations serving 65,000 customers across two states with a unique array of financial products and services designed to help individuals at all stages of life's financial journey – from teaching kids how to save to helping entrepreneurs and families realize the American Dream. Southern Bancorp is a certified Community Financial Development Institution, certified B-Corp, and proud member of the Global Alliance for Banking on Values. Learn more at www.BankSouthern.com and www.SouthernPartners.org.

About the Federal Home Loan Bank of Dallas
The Federal Home Loan Bank of Dallas is one of 11 district banks in the FHLBank System created by Congress in 1932. FHLB Dallas, with total assets of $66.3 billion as of September 30, 2020, is a member-owned cooperative that supports housing and community development by providing competitively priced loans and other credit products to approximately 800 members and associated institutions in Arkansas, Louisiana, Mississippi, New Mexico and Texas. For more information, visit our website at fhlb.com.


---
Contact Information:
Corporate Communications
Federal Home Loan Bank of Dallas
fhlb.com
214.441.8445