---
Fidelity Bank, Resource Bank and FHLB Dallas Award $30K Grant to Habitat
East St. Tammany Organization to Leverage Funds for Hiring Staff and Fundraising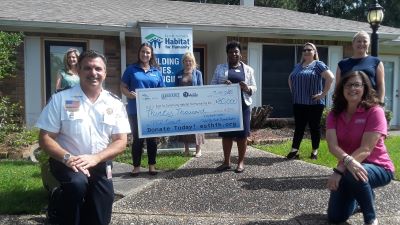 SLIDELL, LOUISIANA, July 10, 2020 – A $30,000 Partnership Grant Program (PGP) award from Resource Bank, Fidelity Bank and Federal Home Loan Bank of Dallas (FHLB Dallas) will assist East St. Tammany Habitat for Humanity with hiring staff and fundraising activities. Representatives from some of the banks awarded the funds today at a ceremonial check presentation in Slidell, Louisiana.
PGP grants help qualified nonprofit organizations fund a variety of operational and administrative activities that are critical to serving their communities. East St. Tammany Habitat for Humanity plans to use the grant to hire a fundraising consultant. It will also use some funds to offset expenses.
"These funds couldn't have come at a better time as the coronavirus pandemic has hit our parish hard," said Kentrell Jones, executive director of East St. Tammany Habitat. "These funds will go a long way in helping our organization get on solid footing for the future in order to maximize the number of people we can help obtain safe and affordable housing."
Kelly Rodriguez, senior commercial banking officer at Resource Bank's Slidell branch, said the bank feels strongly about supporting affordable housing initiatives.
"Resource Bank supports many local charities and foundations, particularly those that aide in helping with basic humanitarian causes," she said. "Habitat for Humanity fits the bank's giving philosophy because they focus on empowering individuals to complete the journey to homeownership."
Fidelity Bank Chief Marketing Officer Tammy O'Shea said Habitat is making a real difference in the community.
"By helping people own their own home, they are also helping families to live healthier lives with more financial freedom, independence and stability," Ms. O'Shea said.
Funding under FHLB Dallas' PGP was increased by $2 million in 2020 under FHLB Dallas' COVID-19 Relief Program to support community-based organizations (CBOs) involved in affordable housing activities, stimulating small business development or providing small businesses with technical assistance. The use of funds for these organizations was expanded to include COVID-19 relief.
Through this unique grant program, FHLB Dallas member institutions contribute from $500 to $6,000 to a CBO, which FHLB Dallas matches at a new, higher 5:1 ratio (compared to the previous 3:1 ratio) resulting in a match of up to $30,000. If multiple member institutions contribute to the same CBO in one year, the maximum FHLB Dallas match for those member contributions is $60,000 per year. In both cases, the total grant to the CBO would be the sum of the member contribution(s) plus the FHLB Dallas match. Grants are awarded annually through FHLB Dallas and its member institutions.
See the complete list of the 2020 PGP grant recipients. For more information about the 2020 PGP grants and other FHLB Dallas community investment products and programs, please visit fhlb.com/pgp.
Greg Hettrick, first vice president and director of Community Investment at FHLB Dallas, said partnering with Resource and Fidelity banks allowed three entities to come together to make a bigger impact.
"Our members in Louisiana have big hearts, and we are blessed that community outreach is a core mission for them and us," Mr. Hettrick said.
About Fidelity Bank
Founded in 1908, Fidelity Bank is an $800 million in assets mutual financial institution chartered by the state of Louisiana. Fidelity Bank provides a full array of banking services, with high integrity and personalized service to communities throughout Southeast Louisiana. Fidelity Bank's mission is HERE FOR GOOD. Visit Fidelity Bank or www.fidelitybank.com. Learn about their exclusive program for women business owners at fidelitybankpower.com
About Resource Bank
Headquartered in Covington, Louisiana, Resource Bank serves the community through ten branch locations within St. Tammany, Washington, Jefferson, Orleans and East Baton Rouge Parishes. Established in 1998, the institution is owned and operated by over 450 local shareholders and has created over 174 local jobs. Resource reported assets of $785 million as of March 31, 2020. The bank continually strives to implement its vision: to enable our clients to realize their financial objectives, to be the employer of choice, and to create value for our shareholders.
About the Federal Home Loan Bank of Dallas
The Federal Home Loan Bank of Dallas is one of 11 district banks in the FHLBank system created by Congress in 1932. FHLB Dallas, with total assets of $83.8 billion as of March 31, 2020 is a member-owned cooperative that supports housing and community development by providing competitively priced advances and other credit products to approximately 805 members and associated institutions in Arkansas, Louisiana, Mississippi, New Mexico and Texas. Visit fhlb.com for more information.
---
Contact Information:
Corporate Communications
Federal Home Loan Bank of Dallas
fhlb.com
214.441.8445