---
FHLB Dallas Loan Helps Dream Come True for Owners of Arkansas Dance Studio
First Security Bank and FHLB Dallas Make Commercial Loan Possible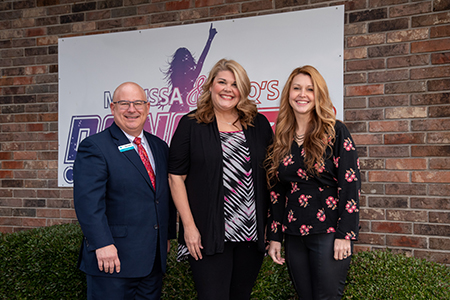 SHERWOOD, ARKANSAS, February 11, 2020 – For the owners of a dance studio in Sherwood, Arkansas, the Small Business Boost (SBB) program did exactly what it was intended to do. It helped them qualify for a loan to build the studio they'd always dreamed of owning.
Sisters Marissa Duren and Jacquelyn Bowman, owners of Marissa and Jacq's Dancers LLC, had tried to get a loan to buy land and build their own studio, but they just couldn't swing it. All the banks they had approached wanted a 20 percent down payment for the commercial loan.
Then Keith Byrd, vice president and commercial loan officer for First Security Bank in Sherwood, a member of the Federal Home Loan Bank of Dallas (FHLB Dallas), suggested they try the SBB program.
SBB is a program offered by FHLB Dallas through member financial institutions like First Security Bank. The program provides financing for qualified small business transactions by filling the gap between the amount an FHLB Dallas member institution can provide and the loan request made by an eligible small business. SBB loans are unsecured and subordinate to the primary loan made by the member bank. The loans help meet the financing needs of the small business when there is a lack of equity or shortfall in collateral.
"Marissa and Jacquelyn had great cash flow, but they just didn't have the down payment," Mr. Byrd said. "We worked through it, and the Small Business Boost made up exactly what they needed for the down payment."
Mike Hutsell, president of First Security Bank, based in Searcy, Arkansas, said the SBB helped create "a great success story for the community of Sherwood and our bank. We are a community bank that loves to support the businesses in the communities we serve. But sometimes there is a gap between what a business wants and what we can provide. The Small Business Boost was there to fill that gap for Marissa and Jacquelyn and help make their dream come true."
Greg Hettrick, first vice president and director of Community Investment for FHLB Dallas, said the situation that the sisters found themselves in is not uncommon for small businesses.
"Small business owners often find themselves a little short of the funding they need to develop their businesses," he said. "It was exactly for this reason that we created the SBB program, which is intended to help our member institutions fill the gap between what they can lend a small business and what that business needs."
Mr. Hettrick said FHLB Dallas hopes the SBB can trigger a sequence of events that is beneficial to a community. "Not only is the small business that received the loan able to grow and provide more jobs in the community, but as they repay their loan, the funds will be recycled back into the program to be reinvested in other small businesses which will create even more jobs over time."
Another advantage of SBB is that the borrower does not begin to repay until after the first year. This feature is designed to help a small business build critical cash flow during the first year of the loan.
Ms. Duren and Ms. Bowman could not be happier. "We are so excited," said Ms. Duren. "All the doors opened because of the Small Business Boost. It was the only reason we could get the loan."
About First Security Bank
Based in Searcy, Arkansas, privately held First Security Bancorp has the most complete and diverse product offering of any Arkansas-based financial services holding company. Supported by the strength of $1.18 billion in total capital and $5.4 billion in assets, First Security can meet any financing need – right here in Arkansas. With more than 1,000 employees covering locations throughout the state, we offer solutions for the financial needs of individuals, businesses and the public sector, including a network of local community banks, respected investment banking and wealth management services, public finance, real estate development and revitalization, leasing and mortgage services.

About the Federal Home Loan Bank of Dallas
The Federal Home Loan Bank of Dallas is one of 11 district banks in the FHLBank System created by Congress in 1932. FHLB Dallas, with total assets of $73.8 billion as of September 30, 2019, is a member-owned cooperative that supports housing and community investment by providing competitively priced loans and other credit products to approximately 815 members and associated institutions in Arkansas, Louisiana, Mississippi, New Mexico and Texas. For more information, visit fhlb.com.
# # #
---
Contact Information:
Corporate Communications
Federal Home Loan Bank of Dallas
fhlb.com
214.441.8445