---
Red River Bank Honored with CARE Award
FHLB Dallas Celebrates Red River's Community Commitment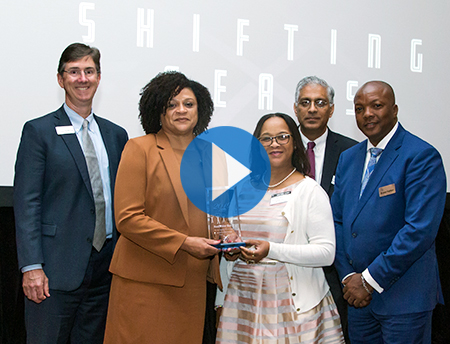 DALLAS, TEXAS, October 22, 2019 – For Red River Bank in Alexandria, Louisiana, making a difference in the lives of people is what being a community banker is all about.
"The availability of safe, decent, affordable housing is fundamental to a family forging a path out of poverty and that is really important to me," said Jannease Seastrunk, vice president and CRA Officer at Red River Bank. "I am very proud of the work we do around community development. Here at Red River Bank we have the opportunity to make a difference in people's lives, and we have the resources to do that through our partnership with the Federal Home Loan Bank of Dallas."
Red River Bank, a member of the Federal Home Loan Bank of Dallas (FHLB Dallas), was honored October 18 with FHLB Dallas' 2019 CARE Award (Watch the video). CARE stands for Community Area Revitalization Efforts, and the award recognizes Red River Bank's commitment to community revitalization.
"Banks hold a special place in any community to be the allocators of capital. At our core, we have this belief that we need to reinvest in our communities; that we need to be leaders in helping our communities grow and prosper," said Red River Bank President and CEO Blake Chatelain.
Red River Bank's long-time partnership with FHLB Dallas has enabled the community bank to reach beyond its walls in a bigger way than would have been possible without such a partnership, Mr. Chatelain said. Since 1999, the year Red River Bank opened, it has leveraged $9.1 million in FHLB Dallas grants and community investment funds to assist approximately 530 households.
"FHLB Dallas is pleased to honor Red River Bank as a 2019 CARE Award recipient," said FHLB Dallas President and CEO Sanjay Bhasin. "Red River Bank has fully embraced the community investment programs FHLB Dallas offers, and because of their commitment to affordable housing and community investment they are transforming communities and lives."
As one of two CARE award recipients honored during the FHLB Dallas annual conference in Dallas, Red River Bank received $7,500 that it can award to a nonprofit of its choosing. Red River Bank will disburse the funds to the GAEDA Revitalization Corporation (GRC).
"We were fortunate to have partners like Red River Bank that made an investment in us," said GRC Executive Director Willie Spears. GRC has used Special Needs Assistance Program (SNAP) funds funneled through FHLB Dallas to Red River Bank, as well as a $339,876 Affordable Housing Program (AHP) grant, to help seniors revitalize their aging homes.
Thanks to the funding, the GRC is well on its way to helping 50 senior citizens in the Alexandria and Pineville, Louisiana, areas make emergency repairs to their homes, allowing them to live safely and independently.
Another example of Red River Bank's community outreach is its support of St. Mary's Residential Training Facility in Alexandria, which provides services to people with developmental disabilities. Red River Bank provided funding for the construction of a new group home with all the latest accommodations.
"This is so important to us because currently the 120 people who are going to move into these homes live in dormitories that were constructed in the 1970s to house children. So, we have four grown men sharing a bedroom and 40 people sharing two congregant bathrooms in a dormitory. And it's just not the way adults should live," said Christi Guillot, administrator for St. Mary's. "With help from FHLB Dallas and Red River Bank we were able to finance the project, and I'm happy to say we hope to start moving people into the group homes in the next few weeks."
Over the past 20 years, Red River Bank has used a wide variety of FHLB Dallas community grant programs, including the Homebuyer Equity Leverage Partnership (HELP) program, which assists income-qualified, first-time homebuyers with down payments and closing costs, and SNAP, which provides funds to eligible special-needs homeowners to repair and rehabilitate their homes.
It also has partnered with FHLB Dallas on Affordable Housing Program (AHP) grants, which finance the purchase, construction and/or rehabilitation of owner-occupied, rental or transitional housing and housing for the homeless as well as the Partnership Grant Program (PGP), which awards funds to community-based organizations.
About Red River Bancshares, Inc
Red River Bank is the sixth largest Louisiana-based community bank and serves customers from its 24 banking centers in and surrounding Alexandria, Shreveport/Bossier, Baton Rouge, Lake Charles and Covington, Louisiana. Headquartered in Alexandria, Louisiana and founded in 1999, the bank specializes in financial services and solutions for Louisiana consumers and small to mid-size businesses. Red River Bank is a subsidiary of Red River Bancshares, Inc, which trades under the trading symbol RRBI on the NASDAQ Global Select Market. Additional information can be found at www.redriverbank.net.
About the Federal Home Loan Bank of Dallas
The Federal Home Loan Bank of Dallas is one of 11 district banks in the FHLBank System created by Congress in 1932. FHLB Dallas, with total assets of $74.5 billion as of June 30, 2019, is a member-owned cooperative that supports housing and community investment by providing competitively priced loans and other credit products to approximately 810 members and associated institutions in Arkansas, Louisiana, Mississippi, New Mexico and Texas. For more information, visit fhlb.com.
---
Contact Information:
Corporate Communications
Federal Home Loan Bank of Dallas
fhlb.com
214.441.8445