---
$18K in Grant Funds Awarded to Louisiana Nonprofits
First National Bank of Louisiana and FHLB Dallas Provided Funds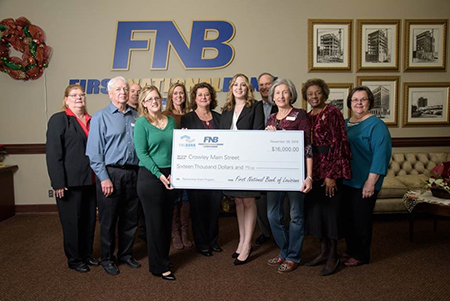 CROWLEY, LOUISIANA, November 30, 2018 — First National Bank of Louisiana and the Federal Home Loan Bank of Dallas (FHLB Dallas) awarded $18,200 in Partnership Grant Program (PGP) funds to Crowley Main Street and Empowering the Community for Excellence (ETCFE). Local dignitaries joined bank representatives in awarding the funds at a check presentation today at First National Bank's offices.
Crowley Main Street, whose mission is to revitalize and promote the historic, cultural, social and economic significance of Crowley's downtown historic business district, will receive $16,000 in PGP funds to assist with business and fundraising operations, as well as supporting the organization's beautification efforts to revitalize the downtown area.
"We believe our downtown commercial historic district is the heart of our city and the center of economic vitality," said Jill Habetz, advisory board vice president of Crowley Main Street. "The PGP grant funds will be put to good use and we're so grateful."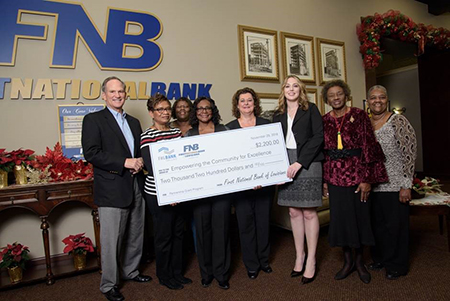 ETCFE, a nonprofit that provides free academic tutoring to underprivileged students, will receive $2,200 in funds from the banks to purchase two laptop computers and supplemental materials including language arts, reading and math workbooks.
ETCFE founder Audrey Spencer said she is grateful for the funds. This is the organization's third PGP.
"We operate on grants and donations, so without those we'd have to close the facility," said Mrs. Spencer.
The structure of the PGP enables FHLB Dallas member institutions such as First National Bank of Louisiana to make a contribution of $500 to $4,000 to a community-based organization (CBO), which FHLB Dallas will match at a 3:1 ratio.
As an educator in Crowley, Mrs. Spencer dedicated her life to helping children. Upon retirement, she was distressed to see the rate at which Crowley children were failing to advance to the next grade level, so she founded ETCFE, a free community-based after school tutoring program providing academic assistance to students in grades 1-5. The program has now expanded to serve students in middle school and high school.
First National Bank of Louisiana has donated learning materials to the program, and donates money to the organization regularly. President and CEO Randy Prather said the bank is proud to support both organizations through the PGP.
"ETCFE and Crowley Main Street are both dedicated to improving our community," said Mr. Prather. "Supporting their missions through the PGP is our privilege and is in line with our bank's core values."
Greg Hettrick, first vice president and director of Community Investment at FHLB Dallas, said the PGP not only strengthens the community, but also members' relationships within the community.
"The PGP is a great community investment tool for community-focused banks such as First National Bank of Louisiana," said Mr. Hettrick. "Our partnership with First National Bank is strengthened by our shared commitment to our communities."
About First National Bank of Louisiana
First National Bank of Louisiana is an independent community bank whose mission is to ensure that the stability of the communities surrounding Crowley, Louisiana is strengthened by its commitment to delivering courteous, attentive, and personal service. Established in the 1920s, the bank has grown to hold over $380 million in assets. First National Bank is committed to attracting and retaining exceptional personnel who are motivated to serve their customers' ever-changing needs, as well as building strategic partnerships to enhance shareholder value. For more information, visit fnb-la.com.
About the Federal Home Loan Bank of Dallas
The Federal Home Loan Bank of Dallas is one of 11 district banks in the FHLBank system created by Congress in 1932. FHLB Dallas, with total assets of $73.7 billion as of September 30, 2018, is a member-owned cooperative that supports housing and community development by providing competitively priced advances and other credit products to approximately 825 members and associated institutions in Arkansas, Louisiana, Mississippi, New Mexico and Texas. Visit fhlb.com for more information.
---
Contact Information:
Corporate Communications
Federal Home Loan Bank of Dallas
fhlb.com
214.441.8445