---
Community Banks Take a 'Wait and See' Approach to Reopening Lobbies Amid Coronavirus
A significant portion of Texas community banks responding to a trade association survey are taking a "wait and see" approach to reopening their banking lobbies amid the coronavirus pandemic.

Others have already reopened while some banks never closed their lobbies when COVID-19 infections began to spread in the United States this spring.

Of those surveyed by the Independent Bankers Association of Texas (IBAT), 47 percent have a plan to reopen but are in a "wait and see" mode; 16 percent are in the early stages of developing a plan to reopen; 15 percent announced their plan to reopen internally; 6 percent announced their reopening plans publicly; and 16 percent are in an "other" category.

The other category included a variety of responses, including banks that had already reopened, those that had never closed their lobbies and those that had not started planning for a reopening.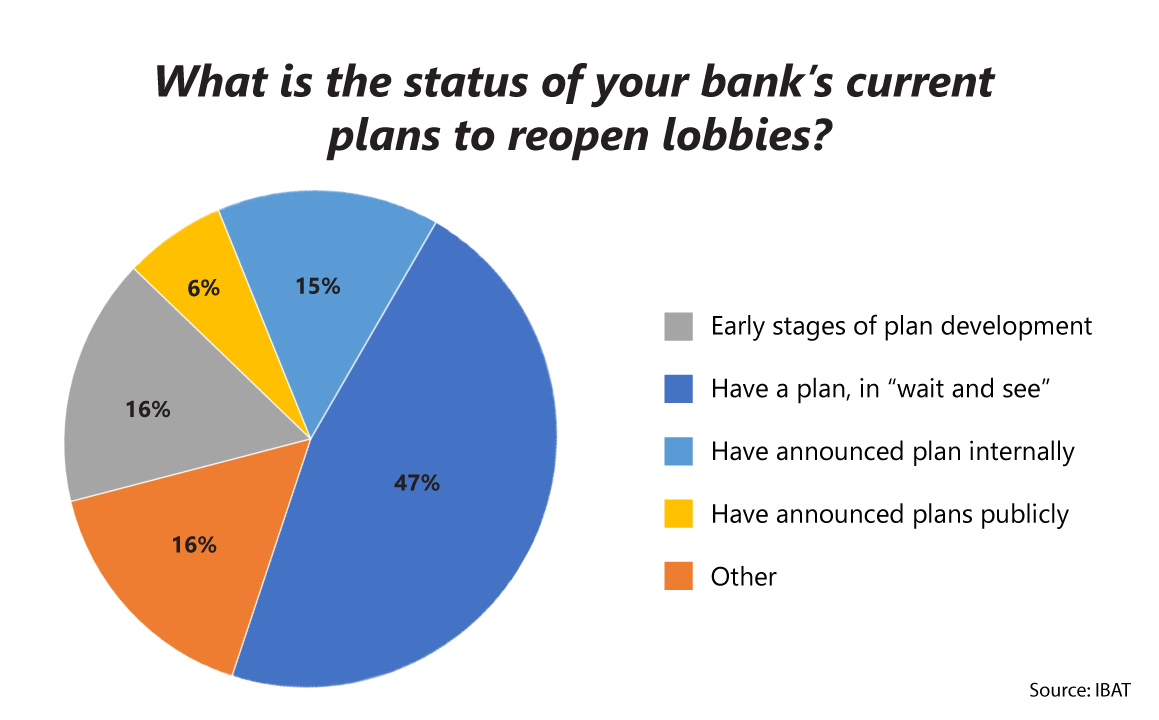 IBAT broke out responses into five categories based on asset size. In all categories, from smallest to largest, the highest number of responses were in the "We have a plan but are in a 'wait and see' mode for more information."

Texas Governor Greg Abbott began reopening the state's economy in phases on May 1; however, because financial services were deemed "essential" businesses, not all banks closed their lobbies.

For those community banks that said they are taking a "wait and see" approach to reopening during the coronavirus pandemic, addressing security related to customers who enter the lobby wearing a mask was one issue survey respondents said they must address.

"We will have customers wearing masks remove them upon entering the lobbies for security, then put them back on if they choose to do so," one respondent said.

Other issues under consideration included gauging customer demand for reopening, waiting on protective equipment and plexiglass shields and watching for best practices from others.

Banks were considering several physical modifications related to safety of employees and customers.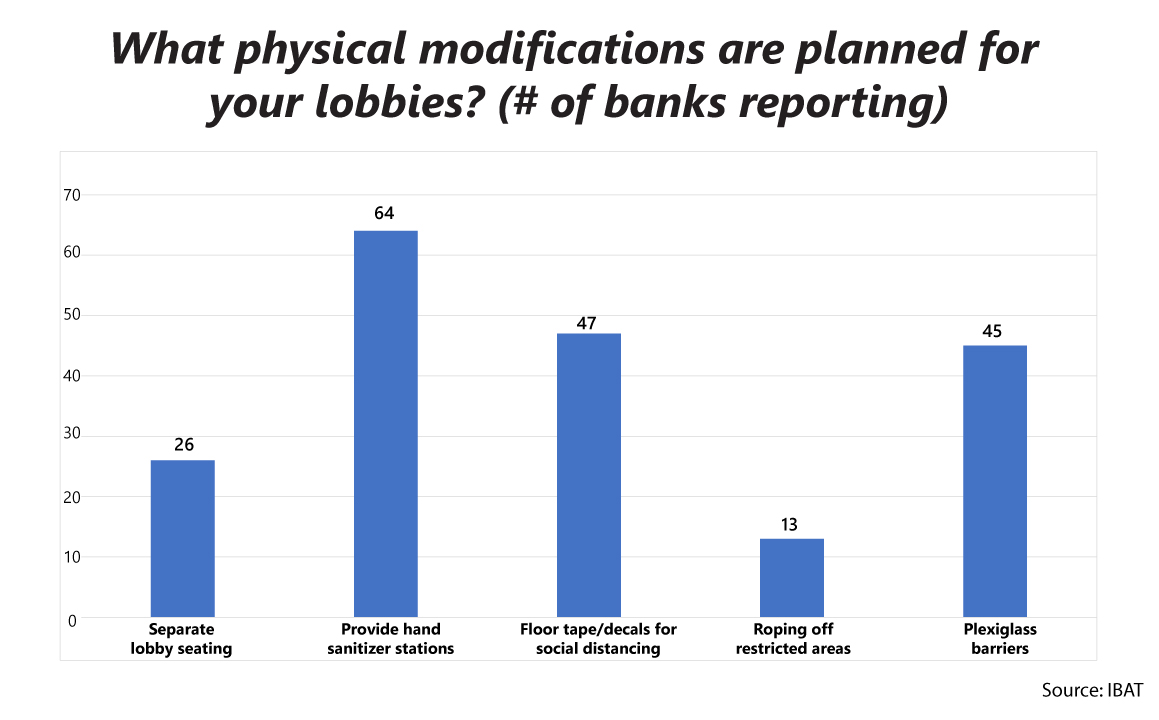 Banks also said they are or will be providing a variety of safety equipment to their staffs, including gloves, disposable masks, washable masks, face shields, teller plexiglass shields, sanitizing equipment and thermometers.

"We have also purchased boxes for our currency counters that have a UV light that will sterilize cash," one respondent said.

In response to a question about other requirements, some responses included daily temperature checks, disinfection of teller lines and deposit stands every 30 minutes and an emphasis on hand washing.

"We are just not seeing any demand yet for customers wanting to come into the lobby. They do not seem to want to come into the lobby any more than our staff wants them in the lobby. We have had zero pushback using drive-thru only," one said.

Survey respondents also responded to a question about whether they are or planned to stagger branch staff to limit exposure. Respondents were doing a variety of things, including split teams, staggered returns, keeping some staff remote and requiring appointments to enter the lobby. Others were ready to bring back more employees, but said that would be based on recent data for particular markets.

Some banks said they would make special accommodations for employees who feared repeated interactions with customers. Responses included:
"We have some employees that will continue to work from home."
"We will rotate anyone with concerns to the motor bank."
"Yes, we will move those employees that are anxious and concerned to areas that are less likely to have customer interaction."
One respondent favored an industry-consistent approach to reopening amid the coronavirus pandemic. "I think we need to develop a set of 'best practices' that all Texas banks try to follow so that we are all doing the same basic things and are being somewhat consistent."

IBAT invited 100 Texas community banks of various sizes to participate in the reopening survey, and 68 submitted responses. The survey was taken between May 2 and May 4, 2020, in the days immediately after Governor Abbott's phased reopening had begun.

Jaime Jordan is a vice president and director of Corporate Communications for FHLB Dallas.