---
Homebuyer Equity Leverage Partnership Helps Homebuyers with Down Payments

As we close out the observance of National Homeownership Month in June, we recognize that buying a home remains the American Dream, but it's a dream that has become increasingly challenging to turn into a reality.

Nationally, home prices have risen sharply since the 2020 COVID-19 pandemic. In the first quarter of 2023, the median price of a home was $436,800, up nearly 33 percent from $329,000 in the first quarter of 2020 when the COVID-19 pandemic began, according to the Federal Reserve Bank of St. Louis.

In addition, borrowing costs have nearly doubled from about 3.5 percent for a 30-year, fixed-rate mortgage loan before the pandemic began to about 7 percent today.

A major obstacle to homeownership remains the down payment. For the first quarter of 2023, the median down payment nationwide was $26,250, according to ATTOM Data Solutions. In high-dollar areas, down payments can reach into six figures.

But there are programs that can help.

Our Homebuyer Equity Leverage Partnership (HELP) program helps alleviate the pressure of saving for a down payment amid rising prices and higher mortgage interest rates. Through participating member financial institutions, HELP provides up to $15,000 per qualified homebuyer for down payment and closing costs.

Jacob Cavazos, senior vice president and Community Reinvestment Manager at Broadway Bank in San Antonio, Texas, perhaps says it best: "To have the HELP program as a tool in our toolbelt to be able to support homeownership in our community is just tremendously impactful for us."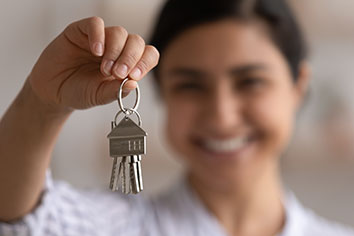 I recently sat down with Mr. Cavazos for a podcast. Check it out to learn more about how your institutions can leverage HELP.

Broadway Bank, an FHLB Dallas member, has successfully partnered with a local Habitat for Humanity chapter that provides a pipeline of potential applicants for HELP. They've assisted more than 50 homebuyers through HELP in the past four years.

Broadway's partnership with Habitat and FHLB Dallas is a great example of leveraging a nonprofit to assist in finding qualified candidates.

"We're all working in conjunction, pulling in the same direction with this mission to help families," Mr. Cavazos said. "I'm just really proud of that."

Other members assist customers who are applying directly with them for mortgage loans, and HELP bridges the funding gap to enable members' customers to become a homeowner.

Prospective homebuyers must apply for HELP through an FHLB Dallas member institution, which can be found by using our "Find a Member" search tool at fhlb.com.

This year we set aside $6.5 million of our Affordable Housing Program (AHP) funds for the HELP program. Visit fhlb.com/HELP to see remaining funds and learn more about the program.


Homebuyer Equity Leverage Partnership
Year
2002-2022
2022
Housing Units
6,118
456
Total Amount
$36.8 million
$4 million


Getting qualified families into homes is what it's all about. Every time a HELP subsidy is awarded, we and our participating member financial institution are positively changing a life.

Bruce Hatton is vice president and community marketing and outreach manager in the Community Investment department at FHLB Dallas.