---
Loan Demand on the Rise along with Optimism, according to Dallas Fed Banking Survey

Banks and credit unions surveyed by the Federal Reserve Bank of Dallas (Dallas Fed) said loan demand picked up over the past six weeks, bolstering loan volumes as financial institutions express optimism about the direction of loan demand growth and business activity in the coming six months.

The Dallas Fed covers the 11th Federal Reserve District, which includes Texas, northern Louisiana and southern New Mexico.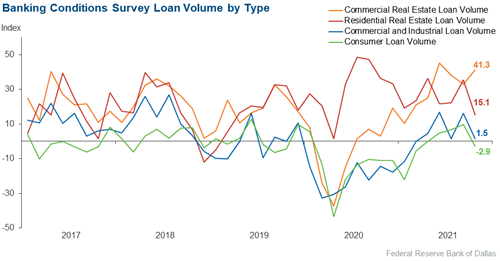 Commercial real estate lending led volume growth, eclipsing residential real estate lending, which continued to grow but at a decelerated pace, according to the survey.

Volumes were largely unchanged for commercial and industrial loans and edged down for consumer loans.
Nonperforming loans decreased, and credit standards and terms remained unchanged while general business activity increased further, although survey respondents expressed concerns over supply-chain disruptions, labor shortages and inflation.

The Dallas Fed asked survey respondents who were expecting an increase in profitability to discuss the factors behind the expectation. Reasons for expected profitability increases included deployment of excess cash into loans and bonds, loan growth, an improved economic outlook, a lower cost of funds, loan interest income rising faster than the cost of funds, increased net interest margins and slight increases in fee revenue and interest rates.

Conversely, respondents who were expecting a decrease in profitability were asked to comment on the factors behind the expectation. Multiple respondents cited the Paycheck Protection Program (PPP) that is winding down as PPP loans are forgiven. Income from fees that the program generated for banks and credit unions is expected to end in the first quarter of 2022. The program was closed to new loan applications on May 31, 2021. Multiple respondents also noted concerns about margin compression, net interest margin pressures, increased labor cost pressures as employees leave for higher-paying jobs and inflation.

The Dallas Fed conducts its Banking Conditions Survey twice each quarter to obtain a timely assessment of activity at banks and credit unions headquartered in the 11th Federal Reserve District.

CEOs or senior loan officers of financial institutions are asked whether they are seeing changes in a series of indicators. Participants are also given the opportunity to submit comments on current issues affecting their business and outlook.

Data was collected from November 1 through November 9, and 69 financial institutions responded.

Steve Otto is first vice president and director of Member Sales for FHLB Dallas.