---
A Challenging Year for Fossil Fuels but Energy Opportunities Appear on the Horizon
Aggressive Growth Expected in Renewables
By Bud Gill

The U.S. oil and gas industry took a substantial hit from the coronavirus pandemic, the Saudi-Russia price war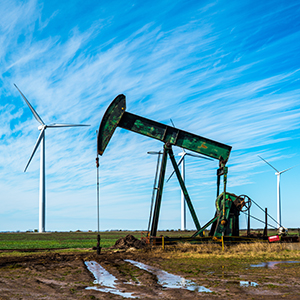 and a 2020 lack-of-demand shock, but the future for U.S. energy production still looks bright, especially if vaccines are deployed rapidly.

Still, U.S. oil production will decline this year from 12.8 million barrels per day in January to about 10.5 million or 10.75 million barrels a day as the year ends, according to a Federal Reserve Bank of Dallas (Dallas Fed) estimate. The Baker Hughes U.S. rig count stood at 323 on December 4, up three rigs from the previous week but down 476 rigs from the year-ago period.

Reduced demand in 2020 and an Organization of the Petroleum Exporting Countries (OPEC) oversupply issue resulted in job losses, bankruptcies, restructurings and consolidation in energy producing states such as Texas and New Mexico.

Deloitte notes that 107,000 jobs vanished from the country's oil, gas and chemicals industry between March and August including job cuts by Big Oil.

Devon Energy announced plans to merge with Tulsa-based WPX Energy in October, and days later it completed the sale of its natural gas assets in Texas' Barnett Shale to Banpu Kalnin Ventures for $570 million. Shale giant Chesapeake Energy filed for bankruptcy in June. These are but a few examples of the changes underfoot.

Recovery to Take Some Time

Recovery is expected to take most of 2021, and banks that have lent to the U.S. energy industry have had to set aside reserves for possible loan losses. Despite that sobering news, energy experts say the industry will bounce back with a different look.

"There will be a healthy (U.S.) oil and gas industry for years to come, but it will be more consolidated, participants will have more scale and they will need to find ways to lower their costs. Scale is critical to that. Technology is critical to that so they can operate in a lower-for-longer price environment," Robert Kaplan, president of the Dallas Fed, said during a Dallas Federal Reserve Energy conference in November.

Still, Mr. Kaplan said fossil fuels will remain a vital part of the national economy for Texas and other energy-producing states in the years to come.

Last year, Texas accounted for 41 percent of the nation's crude oil production and 25 percent of its marketed natural gas production, according to the U.S. Energy Information Administration (EIA). New Mexico has had explosive growth in oil production since 2013, and it is also known to have 5 percent of the country's proved natural gas reserves.

The oil and gas industry also has a major economic impact on the state of Louisiana. The state accounted for 9 percent of the nation's natural gas production in 2019, and its 17 oil refineries account for nearly one-fifth of the nation's refining capacity.

The Changing Face of Shale

Over the past two decades, shale oil producers have changed the trajectory of domestic oil production, reducing U.S. dependence on foreign oil.

Dan Yergin, vice chairman of IHS Markit, told CNBC he believes that production likely will begin growing again by next summer if vaccines are widely distributed by then. Looking out five years, Mr. Yergin said if oil production starts growing again by next summer, the odds favor the United States to continue to be the world's top energy producer.

Alternatives Offer Explosive Growth Opportunities

Aggressive growth in alternative forms of energy will also create substantial jobs and commercial opportunities in coming years, the Fed's Mr. Kaplan believes.

Renewable markets, especially electricity-generating technologies, have shown their resilience to the coronavirus crisis, according to the EIA.

In sharp contrast to all other fuels, renewables used for generating electricity will grow by almost 7 percent in 2020, according to the agency.

Bud Gill is a vice president and assistant treasurer for FHLB Dallas.