---
Five Impacts of COVID-19 on the Commercial Real Estate Sector

The U.S. commercial real estate (CRE) market took a hit when the coronavirus began to spread throughout the country, but there's some optimism to be found, says Spencer Levy, senior economic advisor and chairman of Americas Research at CBRE.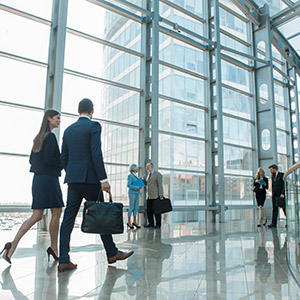 Mr. Levy spoke during a Federal Home Loan Bank of Dallas (FHLB Dallas) members-only webinar on September 22 and provided the following five insights about the CRE market:

1. The physical office will remain important post-COVID-19
In a July survey of its clients, 22 percent of CBRE's clients expected no change in their office space requirements while 41 percent said they expected their needs to decrease only slightly. Pessimism about the office market has increased since then, but Mr. Levy said he still remains optimistic that the office market will thrive as businesses seek out the company culture and teamwork that comes from working in an office environment. "Working from home doesn't work for everyone," Mr. Levy said. Companies in the future may want more square footage per employee to accommodate social distancing and it may become more common for employees to work from home two days a week as compared to a half day or one day pre-COVID-19. "We do see some diminution in office demand but probably not as much as you are feeling in your gut today," he said. Mr. Levy, who does a regular podcast called "The Weekly Take," talks more about this in a recent podcast.

2. Moving to the suburbs is a thing, but it might not last
Both people and offices have been looking to the suburbs since coronavirus began to spread. Companies are focused on hub-and-spoke models with a city-based headquarters and geographically dispersed hubs or satellite offices in the suburbs closer to where their employees live. In terms of residential real estate, millennials and others have been seeking bigger and less expensive homes and property outside of urban downtowns. "Will this be permanent? I think there will be some permanence … but I think some of it will snap back," he said, with interest in central business districts returning in one to three years.

3. The fastest recoveries are expected in the industrial and multifamily sectors
The industrial sector is currently showing the most strength, followed by multifamily and office. Retail and hotels will take the longest to recover and some hotels will never reopen, he said.

4. Lending has been constrained for new CRE origination
Banks and other lenders are focused on their existing books of business. More debt liquidity is needed in the CRE market, Mr. Levy said.

5. Presidential elections
Historically, presidential elections have little overall impact on the CRE market, although there may be some short-term impacts related to the size of economic stimulus packages and how that stimulus helps the economy, Mr. Levy said.

Risks to the CRE industry, like other segments of the economy, are somewhat unknown and will depend in part on what happens with the coronavirus during the remainder of the year. Lingering questions remain, such as whether infection rates surge in the fall and winter and the availability of an effective vaccine.

"This virus has been way tougher to beat than we thought," Mr. Levy said. Quick action by the Federal Reserve to lower interest rates and add money to its balance sheet helped stave off even worse economic fallout from the virus, Mr. Levy said. "The good news is … we've been able to bounce back faster than any time in human history from a crisis as deep and severe as this one."

You can hear more interviews with Mr. Levy by listening to "The Weekly Take."

Zimri Hunt is a Vice President and Director of Strategic Planning and Member Solutions.