---
We're in a Pandemic and the Housing Market is on Fire

Buyers Working Remotely Seek More Space in Suburban and Rural Settings

The housing market roared back to life this summer after a brief coronavirus pandemic dip and appears to have ample fuel to keep the embers burning through year-end. The nation's extended work-from-home environment coupled with historic low interest rates are driving the market's strength.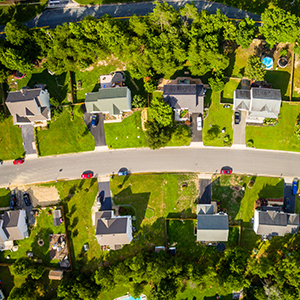 "It's a pretty clear V-shaped recovery for housing," says Joel Kan, associate vice president of Economic and Industry Forecasting at the Mortgage Bankers Association (MBA).

After a challenging spring, the housing market regained momentum this summer as record low interest rates drove a refinance boom and made new and existing home purchases more affordable.

"Things were strong going into this (coronavirus pandemic) and a lot of the recovery has been the pent-up demand," Mr. Kan said.

The spring homebuying season, typically the strongest season for housing activity, got delayed with economic shutdowns. Households unaffected by job losses had returned to the market in force by June.

COVID-19 Housing Trends Emerge

Jody Kahn, senior vice president of research at John Burns Real Estate Consulting, is closely watching emerging trends to see if they have staying power once the pandemic ebbs and fades.

Those trends include workers in high-priced, dense urban areas moving to outer-ring suburbs, rural areas and as far as a two-hour drive from their home office under the belief that their remote-work situation will become permanent or semi-permanent. Some technology workers in California, whose companies have gone semi-remote are even moving to desirable, affordable cities in other states believing they'll only have to visit the office infrequently, she said.

Quarantined homebuyers want bigger homes and lots with patios, more land, enough office space for two adults working from home and a place for children taking online courses to study, she said.

"These nuances, I think, have shifted people's thinking on 'What does my home need to provide and where does it fall short?'" she said. "I really think consumers today want what I call the patch of blue sky. After having been effectively locked in, they really crave an outdoor space that they control," she said.

Housing Around the District

Mark Dotzour, a real estate economist who served for 18 years as chief economist of the Real Estate Center at Texas A&M University, said Texas' constrained supply — just under three months of inventory — is contributing to the state's rising home prices as pent-up demand surges. Homebuilders can't keep up, and existing homes are flying off the market.

"You better show up with your checkbook and be ready to buy," Mr. Dotzour said. "There will be a continuation of that." While the bottom third of the Texas market is the most constrained by lack of inventory, the upper one-third remains softer as luxury homes typically take longer to sell. It's been harder to gauge the middle third as trends there appear a bit uncertain, he said.

As far as prices, no state experienced a home price decline in July, the most recent data available, according to CoreLogic, but some markets are challenged. Lake Charles, Louisiana, hit hard by Hurricane Laura, is ranked third among the top five markets that are the most at risk of a house price decline, it said.

The state of Mississippi also has housing challenges related to high unemployment and mortgage delinquencies brought about by the coronavirus-related recession, according to Bankrate's Housing Hardship Index. Mississippi's mortgage delinquency rate was 11.36 percent in July. Unemployment was 10.8 percent.

Sales were strong this summer in Northwest Arkansas, meanwhile, as buyers there sought to take advantage of low interest rates, according to Arvest Bank's Skyline Report, which is conducted by the Center for Business and Economic Research (CBER) at the University of Arkansas.

Glenn Kelman, the CEO of real estate brokerage Redfin, told CNBC that affordable places such as Albuquerque, New Mexico, and Dallas, Texas, are attracting buyers from higher-priced coastal cities.

What's Next for Mortgage Lenders

The sustainability and strength of housing's recovery will depend on how many workers get back into the economy and when. Businesses, especially in the hard-hit restaurant, retail, entertainment and lodging industries likely won't be hiring back at pre-pandemic levels and the recovery will be uneven.

Initial unemployment claims remain elevated at about 1 million claims per week, far above the 660,000 claims per week during the worst of the Great Recession. However, new weekly jobless claims came in at 881,000 for the week ending August 29 — better than expected.

"Whether they are renters or buyers, there will be some hardship for a large segment of the population that isn't part of the V-shaped recovery in housing," the MBA's Mr. Kan said.

Tightening credit is already apparent with risk-adverse mortgage lenders tamping down credit availability across loan types due to the uncertainty around delinquencies, defaults, forbearances and the economy.

The delinquency rate for mortgage loans on one- to four-unit residential properties increased to a seasonally adjusted rate of 8.22 percent of all loans outstanding at the end of the second quarter of 2020, according to MBA's National Delinquency Survey. The nearly 4 percentage point jump in the delinquency rate was the biggest quarterly rise in the history of MBA's survey.

"(Credit) is about the tightest that it's been since about 2014 and will be tied to broader mortgage market performance and the employment situation," Mr. Kan said.

More than 7 percent of the nation's mortgage loans are in forbearance, a number that has either declined or remained steady in recent weeks.

Low inventory, tighter credit and economic uncertainty will be housing's challenges going into the fall, but housing experts said pent-up demand and low interest rates should keep both the refinance and purchase mortgage markets in healthy territory.

Lee Cammerer is a Vice President and MPF Senior Sales Manager at FHLB Dallas.