Sustainable Business Practices That Move Our Business Forward
We continue to build upon environmental and sustainability initiatives for our business and for our office building that will help to positively impact our climate, environment and business.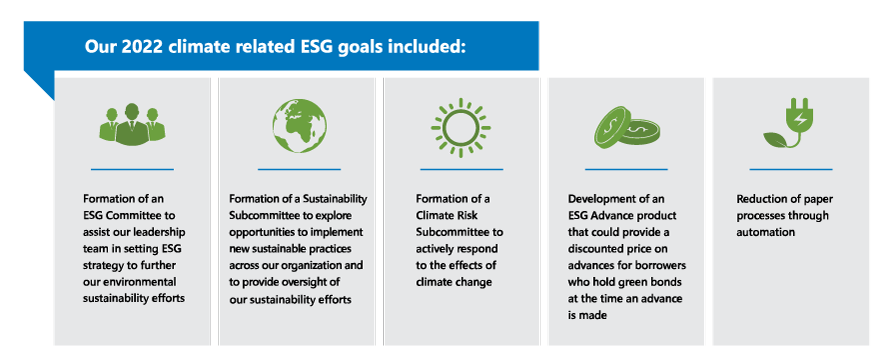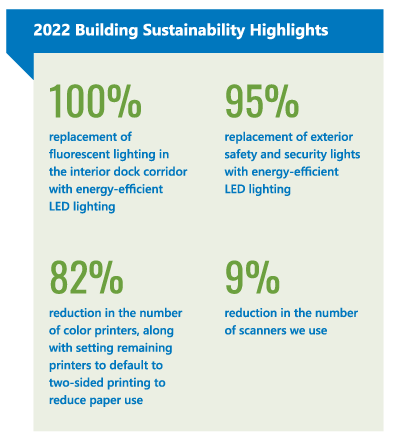 Related efforts during 2022 included the following initiatives:
Energy and water audits of our owned office building
A sustainable, green and healthy building certification review
Use of Microsoft Teams and Zoom to reduce business travel emissions
Further progress on our digital initiative to reduce key paper processes by year-end 2024
---
Waste Management and Recycling
Like many organizations, FHLB Dallas has focused for years on reducing waste by expanding recycling programs and implementing more energy reduction measures. We recycle batteries, paper, cardboard, toner cartridges, light bulbs and Nespresso pods.



---


2023 Objectives
Fortified Housing
Going forward, we seek to be part of a solution that reduces the need for and the cost of recovery from climate-related disasters. Our Voluntary Fortified Fund, which we plan to introduce in the third quarter of 2023, will provide approximately $1.75 million to help our members finance the construction of roofs that are built to better withstand severe weather, including high winds, hail, hurricanes and tornadoes. Once available, the program would also subsidize wildfire-prepared homes in fire-prone communities.

Affordable Housing Program Scoring for Resiliency

Beginning in 2023, AHP scoring will include an emphasis on resiliency, sustainability and energy conservation. Resilient housing certifications will increase an application's score by up to seven points. Nine different climate-resilient building standard certifications will be eligible to receive points. See Appendix D of the AHP Implementation Plan.

ESG Advance Product
In 2023, we look forward to introducing an ESG Advance feature as a pilot offering. The objective of the offering is to incentivize our member institutions to buy green financial assets such as Fannie Mae Green Mortgage-Backed Securities (MBS). We intend to provide favorable pricing on certain FHLB Dallas advances when the member demonstrates the ownership of these green securities at the time an advance is made.