FHLB Dallas' commitment to promoting diversity within our organization extends to all aspects of our business, including the procurement and contracting of goods and services. We focus on building sustained relationships and providing contracting opportunities with disabled-, minority- and women-owned businesses.
Vendor Opportunities
If you are a diverse vendor, and you are interested in doing business with FHLB Dallas, please contact us, or join our diverse vendor network by completing the form below.
FHLB Dallas invites all diverse businesses to participate in contracting opportunities. FHLB Dallas seeks opportunities to conduct business in a prudent, efficient, cost-effective, timely manner and with a clear understanding of the importance of safety and soundness considerations in all purchasing and contracting activities.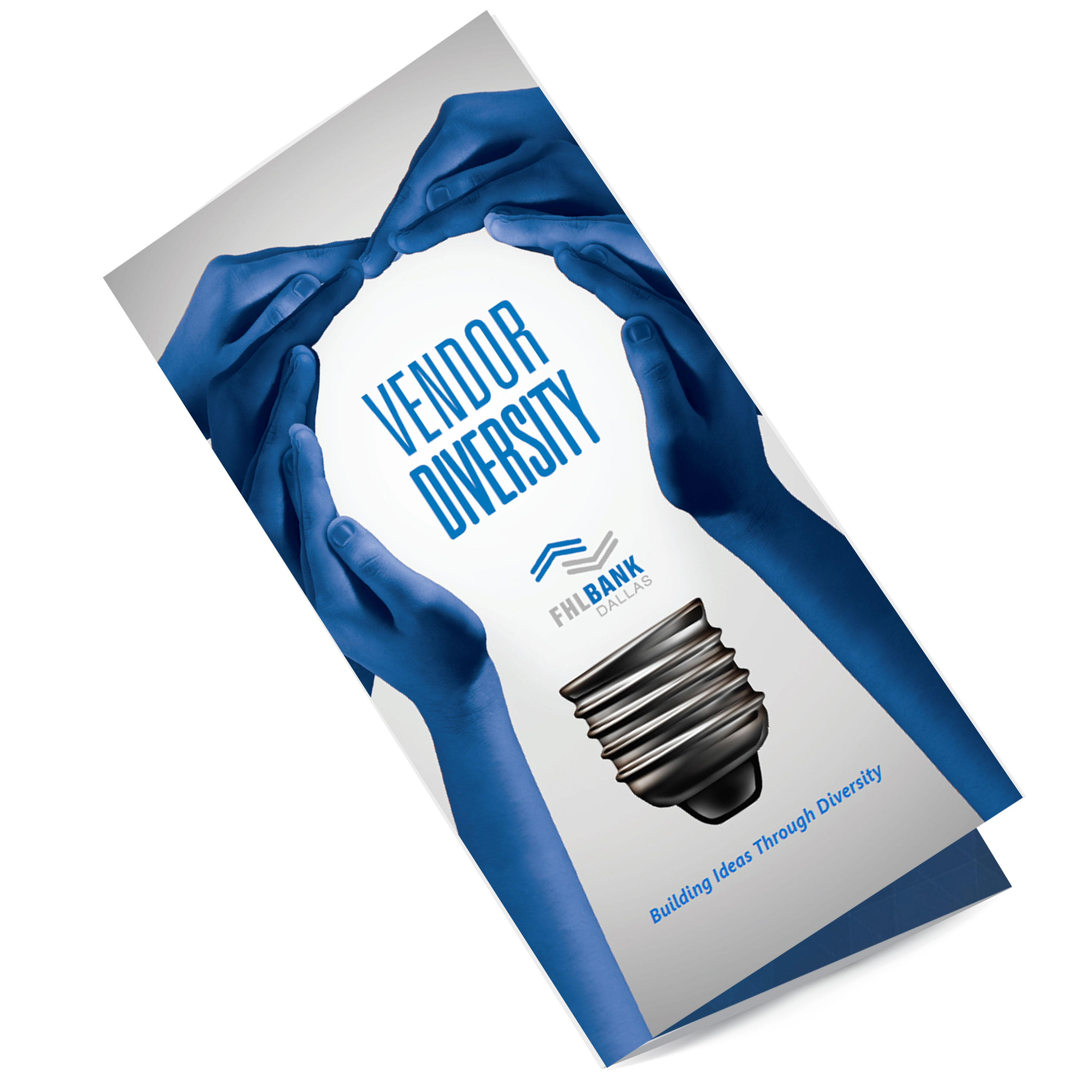 Vendor Brochure
Download our Vendor Diversity brochure.
Requests for Services and Proposals
Periodically, FHLB Dallas solicits requests for bids with contracting opportunities.
Click on a category to view the drop-down list.
Corporate Communications
Design Services
Photography
Printing Services
Enterprise Risk
Financial Risk Modeling
Model Validation
Risk Management Consulting (e.g., risk assessment, operational risk management, business continuity, vendor risk management, IT risk management)
Facilities Contracts
There are no timeframes indicated, and bids are spread out over the entire year for the following contracts:
Ad Valorem Tax Administration
Aquarium Maintenance
Automatic Transfer Switch Maintenance/Testing
Backflow Testing
Bulb and Ballast Supplies
Carpet Cleaning
Carpet Sales/Repair
Commercial Air Freshener Services
Commercial Property Holiday Décor Installation
Concrete Repairs
Davit Inspection
Document Destruction/Shredding Services
Drinking Water Delivery/Cooler Rental
Electrical Services
Facility Recovery Services For Emergency/Disaster Events
Fire System Inspection/Repair
Fire Panel Monitoring
Fitness Ctr Equipment Maintenance/Repair
Fountain Cleaning
Generator Maintenance
Granite Maintenance
HVAC Air Filters
HVAC Maintenance/Repair
Indoor Air Quality Consulting
Indoor Air Quality Testing
Interior Plant Maintenance
Janitorial Services
Landscaping Maintenance
Laser / Copy Paper Supplies
Lightning Protection Testing
First Aid Supplies
MEP Engineering
Interior Metal Maintenance
Painting Services
Parking Lot Power Washing
Parking Lot Restriping
Pest Control Services
Plumbing Services
Printer Consumable Supplies
Property Signage
Raised Flooring Services
Mercury Containing Lamps And Ballasts Recycling Services
Static Transfer Switch Maintenance
Structural Engineering Services
Tree Maintenance
UPS, PDU & Battery Maintenance and Repair
Vending Services
Voice and Data Cabling
Water Disposal
Cooling Tower Water Treatment Services
Window Washing
Human Resources
Recruitment Firms
Training and Development Consultants/Firms
Legal Services
Legal services from diverse law firms with in-depth experience and expertise in the following areas:
Bank Secrecy Act
Bankruptcy Law
Benefits and Executive Compensation
Cyber Security and Data Security Law
Fair Lending Laws
Immigration Law
Tribal Law
Insurance Law
Intellectual Property/License Agreements/Cloud Computing Agreements
Letters of Credit
Real Estate Law and State Mortgage Foreclosure Law
Uniform Commercial Code and Secured Lending Law
Recurring Services
Information Security Professional Services - Penetration Testing
Information Security Professional Services - FFIEC Maturity Testing
Microsoft Reseller for Government
General Software License/Software Subscription Reseller
Electronics/Hardware Reseller (TVs, Dell Monitors, Keyboards, Dell Wyse Terminals, Dell Servers, etc.)
​Join Our Diverse Vendor Network
FHLB Dallas is committed to considering diverse vendors in contracting and service awards. A diverse vendor is a business owned by a woman, minority, disabled or service-disabled veteran.
Refer to the Business Classification Affidavit for details.