Intern at FHLB Dallas
FHLB Dallas offers internships in a variety of departments such as Corporate Communications, Community Investment, Internal Audit, Market Risk, Member Services, Banking Operations and Tactical Solutions. Take your development to the next level by applying to intern at one of the 100 Best Companies to Work for in Texas. All interns will have the opportunity to attend workshops, trainings and other beneficial programs offered to full-time employees.
What We Learned Interning at FHLB Dallas
FHLB Dallas interns get into the trenches to solve real-world problems and gain valuable work experience while still in college. Don't take our word for it. In this video about the FHLB Dallas internship experience, our interns do the talking.
---
Join Our Diverse Workforce
FHLB Dallas has employees representing more than 40 colleges and universities across the United States.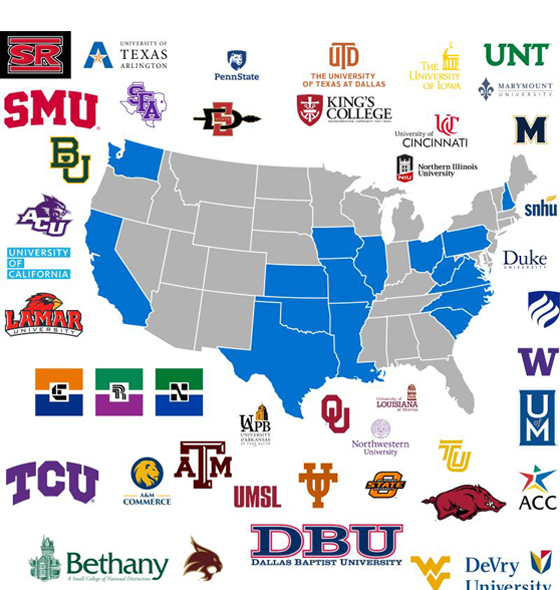 ---
All the FAQs
What time of year does FHLB Dallas usually recruit interns?
The end of fall through the beginning of spring is typically when FHLB Dallas seeks new internship candidates. The program begins in the middle of June and can continue through the end of August, depending on the student's schedule.
What are the internship requirements for FHLB Dallas?
All students who are enrolled full time at a college or university during the current school year are welcome to apply for an internship at FHLB Dallas.
Will FHLB Dallas come to my school to recruit for interns?
Located in Irving, Texas, our recruitment team has visited area schools in the past to inform students about available career opportunities. However, all students are welcome to apply if they meet the criteria listed in the previous question.
Are internships at FHLB Dallas paid?
Yes, interns at FHLB Dallas are paid an hourly wage. Interns are also welcomed to submit work hours to their school in exchange for college credit.
What makes FHLB Dallas internships different?
FHLB Dallas will provide a worthwhile experience for all interns who are looking to get a taste of what it's like to work in the real world. Internship experiences may include working on actual FHLB Dallas projects, working a full-time schedule and choosing "Intern Projects" to present to FHLB Dallas employees at the end of the internship. Interns will become immersed in a fast-paced, team-oriented environment that will guarantee the ultimate preparation for their future career.