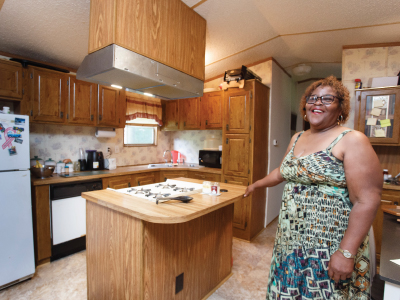 It has been increasingly more difficult for 60-year-old Frances Johnson to afford home repairs on her fixed income, but the Carthage, Arkansas, homeowner viewed a loan as a last resort.
"Being on a fixed income, going into debt is not doable, especially for the scale of the repairs I needed," said Ms. Johnson. "My roof was aging, bathroom fixtures were corroding, I had mold in my walls from a previous leak and my 27-year-old carpet was causing me to have really bad allergies."
Ms. Johnson stumbled across the Special Needs Assistance Program (SNAP) while researching assistance programs. The program, offered through members of the Federal Home Loan Bank of Dallas (FHLB Dallas), provides up to $7,000 toward necessary home repairs for households containing special needs individuals, including elderly.
Ms. Johnson qualified for a $5,400 subsidy in March from Citizens Bank and FHLB Dallas. The funds helped to repaint her interior walls, remove the mold and replace corroded bathroom fixtures.
"It felt so wonderful to get my home repairs completed," said Ms. Johnson. "SNAP has changed my life. There were several things that I needed to get done, and this funding helped make those things happen."
Ms. Johnson added that she's helped spread the word about the sought-after program to her friends.
"I really love this program," said Ms. Johnson. "SNAP makes it possible to get repairs done with a peace of mind that it will be done correctly and by a professional. I've been recommending it to other people in several surrounding counties to apply for it."
Chris Lampkin, market president, Southeast Arkansas at Citizens Bank, a long-time user of FHLB Dallas' community investment programs, helped Ms. Johnson apply for the subsidy.
"Citizens Bank is honored to work with FHLB Dallas to provide Ms. Johnson the critical repairs she needed to help make her more comfortable in her home," he said.
FHLB Dallas First Vice President and Director of Community Investment Greg Hettrick added that community investment programs such as SNAP do not work without their community partnerships.
"SNAP has been a successful program in Arkansas thanks to members, like Citizens Bank, that are committed to serving their communities," said Mr. Hettrick. "Not only do community members benefit from the program, but our members do too who strengthen their relationships with communities by offering the program."