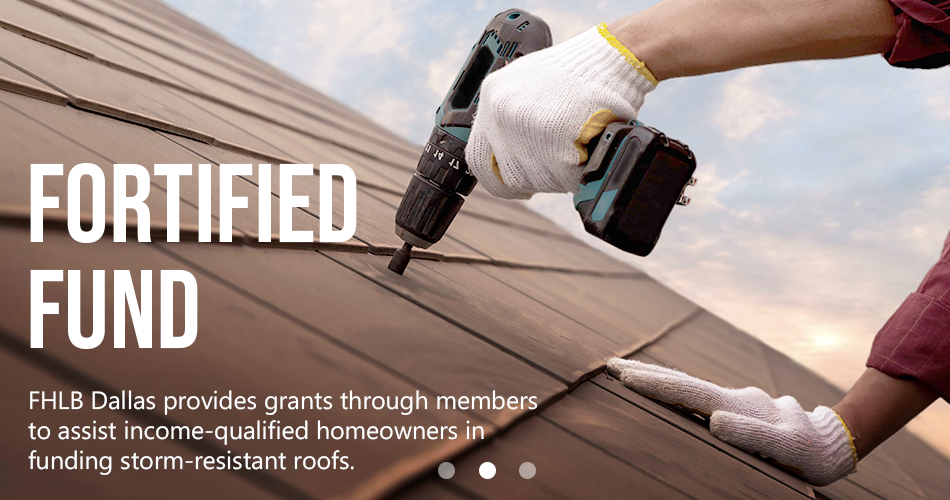 -
FHLB Dallas offers specialized subsidy and advance programs to assist our members in financing affordable housing and economic development in the communities they serve. Our Community Investment programs are here to help our members and their communities thrive.

-
Home Bank, 2023 CARE Award
Affordable Housing Program
Learn how the Ohkay Owingeh Housing Authority, a Tribally Designated Housing Entity, has used AHP funding in New Mexico.

Affordable Housing Program
Affordable Housing Program (AHP)
AHP is a competitive subsidy program that provides gap funding through member institutions for affordable housing projects.
Learn More
Homebuyer Equity Leverage Partnership (HELP)
HELP provides subsidies for down payment and closing cost assistance through member institutions to income-qualified, first-time homebuyers.
Learn More
Housing Assistance for Veterans (HAVEN)
Housing Assistance for Veterans (HAVEN) funds assist with necessary modifications to homes of U.S. veterans and active-duty, reserve or National Guard service members who became disabled by as a result of their military service since August 2, 1990. Alternatively, the funds can be awarded to Gold Star Families that were impacted during this time frame for home repairs/rehabilitation.
Small Business Boost (SBB)
SBB is an economic development program offered by FHLB Dallas intended to help participating members provide financing for qualified small businesses by filling the gap between what the member can finance and the loan request made by an eligible small business.
Special Needs Assistance Program (SNAP)
SNAP provides subsidies through member institutions for the rehabilitation and/or modification of owner-occupied households with a special-needs occupant.
Learn More