Kwasi Satcher Brings Sports Programs to Dallas-Fort Worth Youth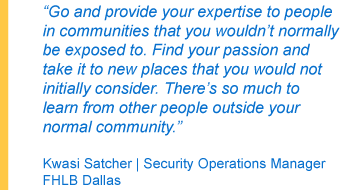 Sports offer individuals a variety of skills, practice of self-discipline and commitment to the game. For Kwasi Satcher, he saw these benefits as well as what sports could do beyond the field for students.
Kwasi, Security Operations Manager at the Federal Home Loan Bank of Dallas (FHLB Dallas), sought to provide programs to assist youth in underserved areas in the Dallas-Fort Worth region. A passion for sports and serving others brought about the DFW Youth Sports Inc. in the summer of 2015. Through his partnership with friend, Alton Murphy, Kwasi was able to establish the nonprofit organization.
DFW Youth Sports Inc. provides youth sport leagues for students ranging from 8 years old to 17 years old, and on average serves 150 students. Students can participate in a number of sporting events and activities such as reading programs, tutoring and volunteer opportunities. Many of the students served come from low- to moderate-income households with limited access to afterschool resources. In order to combat the financial barrier many of the students may face, the organization covers team fees, uniforms and travel.
Throughout the past six years, DFW Youth Sports Inc. has expanded its resources and provided students with the opportunity to attend professional and college sporting events such as Texas Ranger games. Corporate donations and sponsorships have allowed the organization to not only fund events for the students but new sports equipment and uniforms as well.
For Kwasi, the mission of this organization hits close to home due to his previous experience with youth sports programs.
"I grew up in a not-so-great neighborhood, similar to where these kids are coming from. When I was younger, some parents and coaches in my hometown came together to put on leagues for us to play in. It really helped me cultivate my teamwork, leadership skills and other interpersonal skills."
"This organization means so much to me because I have the opportunity to give back to these kids in ways that I was served when I was growing up. Through our programs, we are able to take these kids outside of some of the rough neighborhoods in DFW and show them the opportunities available to them. By taking our students to different events, they really have the opportunity to see that there are better things ahead of them and the situation they are in is not where they have to stay. They come to understand that they can strive and reach for more things than they thought were available."
Kwasi hopes that through these sports programs, it will inspire change for these students in their future career paths and plans they set for themselves.
While the organization normally hosts sporting events in person, they have moved to online mentoring and coaching due to the coronavirus pandemic.
"It's important that we check in with the kids throughout the week to ensure they're doing their reading assignments and staying healthy. We're doing our best to provide support and online resources as they are now learning from home."
Kwasi finds that the recent racial unrest has inspired him to support his students now more than ever. He hopes that through conversations with these young men and women, they can come to understand how to positively combat this injustice.
"it's important to me that I take the time to sit down with these men to help them understand what's going on. I am committed to having these conversations to help ease some of the anger and confusion they are experiencing."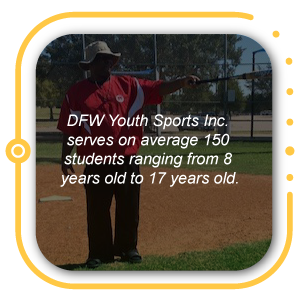 The organization seeks to equip students with skills and knowledge that they can carry with them in their future education and career path. It's important that these youth walk away with more than simply mastering a sport.
Kwasi said he hopes that FHLB Dallas employees will find something that they are passionate about and find a place where they serve those in need to be a beacon of hope.
In finding a place to serve in, FHLB Dallas employees could take the time to find an organization or community outside of their comfort zone. Kwasi notes that it's important to expose yourself to new areas in order to have a more open perspective for different groups of individuals.
"Go and provide your expertise to people in communities that you wouldn't normally be exposed to. Find your passion and take it to new places that you would not initially consider. There's so much to learn from other people outside your normal community."