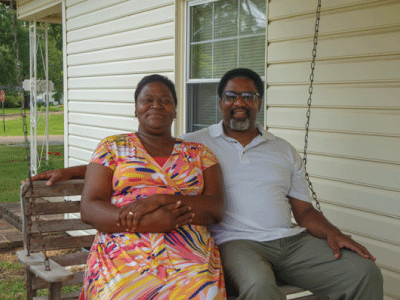 At the age of 17, Master Sergeant Jeffery Darrough decided to enter the Army Reserve on a last-minute whim.
"Ironically, I went to support a friend who was signing up to join the Army, and the rest of my friends and I ended up taking the required test, as well. We all passed except for the friend that actually wanted to sign up," said Master Sergeant Darrough.
Master Sergeant Darrough enlisted, and spent 26 years in the Army, including six years of active duty. During his service, one of his roles was transferring supplies from Kuwait to Iraq.
Master Sergeant Darrough, now 54, suffers from post-traumatic stress disorder resulting in flashbacks and nightmares from his time spent on active duty overseas.
After returning from active duty, Mr. Darrough and his wife purchased an older home that needed renovations. They learned of the Housing Assistance for Veterans (HAVEN) grant from a family friend at church. He then researched it online and called the Federal Home Loan Bank of Dallas (FHLB Dallas) directly, who put him in contact with FBT Bank and Mortgage.
HAVEN funds assist with necessary modifications to homes of U.S. veterans and active-duty, reserve or National Guard service members who became disabled as a result of military service occurring after September 11, 2001. Alternatively, the funds can be awarded to Gold Star Families who lost a loved one during his time frame.
Master Sergeant Darrough received a $10,000 HAVEN grant through FBT Bank and Mortgage. The funds covered the installment of vinyl plank floors, new toilets and new plumbing and pipes in the house.
FBT Bank and Mortgage Assistant Vice President Daniel Pledger said HAVEN is a great opportunity for community banks.
"Helping local veterans and their families through HAVEN is a part of being a community bank, so it was a simple decision," said Mr. Pledger. "I think the HAVEN program is outstanding, and we plan to help other veterans apply for the grant."
Master Sergeant Darrough felt it would have taken longer to complete the renovations without the grant.
"If I had not received the grant, I probably would have had to push back the repairs I needed. There is no way I could have gotten it all done at once," said Master Sergeant Darrough. "The HAVEN program took my worries away, and it was a tremendous blessing."
Greg Hettrick, first vice president and director of Community Investment at FHLB Dallas, said programs like HAVEN are critical to serving veterans.
"HAVEN allows FHLB Dallas and its members to give back to those who served our country," said Mr. Hettrick. "We are pleased to join FBT Bank and Mortgage to offer Master Sergeant Darrough the support he needed to make his home more accommodating."
To learn more about HAVEN, visit
fhlb.com/haven.