---
New Year, New Social Media Strategy
January: What better month to begin something new? If your New Year's resolutions include maximizing your social media presence, now is the time to fine-tune your strategy. As with any resolution, failing to plan is, essentially, planning to fail.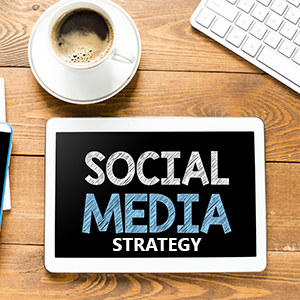 The first hurdle: Think about your strategy and write it down. According to the Content Marketing Institute, 60 percent of social media marketers with a documented strategy rated themselves as highly effective, versus the 32 percent of marketers with only a verbal strategy.
And while there is no one secret to success, I'm sharing five tips that will help you create a winning social media strategy for the New Year:
Create Your Calendar
If you don't have a social media calendar, get one, because you will want to plan out your year. (Learn about many top-rated options here, or download a free template here.) While a social media calendar has many benefits, the key advantage here is organization. Laying out your content by time, audience or objective allows you the perspective you need to ensure your strategy's success.
Having a calendar also helps you:
Take advantage of all opportunities - You can map out and schedule what you will post and when, whether it's quarterly, monthly, daily or even hour-by-hour, to ensure you're communicating when it's best for your brand. By giving timing some strategic thought, you'll be ready for Small Business Saturday, National Pet Day or other "hashtag" holidays that you can leverage with hashtags and content. (No #FOMO here!)


Stay consistent - Mapping out your posts is creating a built-in monitor for maintaining your post frequency, a best practice in social media. You will begin to build trust, rapport and dialog with your audience. A well-designed calendar can also help ensure you are hitting your target objectives and it highlights strategic areas you might have neglected.


Be more strategic – When utilizing the variety of platforms at your fingertips – Instagram to Snapchat, Reddit to YouTube, Tumblr to Twitter and many, many more – your calendar can help you be more strategic in terms of the content platform you utilize for specific messages and audiences. Integrating your social media calendar into other plans and calendars shows overlap, and allows your content to work for you across your overall marketing strategy. It removes silos, so to speak, and helps you create synergistic buzz.
Observe Your Competitors
Whether you are a bank, credit union, insurance company or other business, no doubt you have seen folks in your industry who are doing blockbuster things on social media. Take note of what catches your eye. Are there types of content they are posting that you could leverage? Could campaigns they have run be reimagined for your business? What kinds of activities create engagement among their followers? While our institution is a cooperatively owned wholesale bank, I often get my best ideas and inspiration from tech companies and outstanding performers in other fields. Also, you can also observe what your competitors aren't doing well, and steer clear of those practices.
Refine, Refocus and Reposition
If you are already active on social media, now is a great time to conduct a social media audit. Look at what's working for you on social by reviewing your data and industry trends. Here are a few questions to ask yourself:
Who controls your online identity? Identify accounts that mention your brand. Do you own these accounts, or are they run by an impostor or another division in your organization? If it's not actually affiliated with your brand, contact the platform for help in correcting the issue. If others are involved in social media that reflects your brand, work together on a shared vision.
What engages your followers? Across your company's various platforms, identify the posts with the most traction. Which ones got the most comments/likes/shares? Which ones were non-performers?
When and where is your audience finding your brand? Where is traffic and engagement the highest? Is there an opportunity to expand? For your demographic, what other social media platforms are they using that you are currently not? Paid campaigns are also a tactic for engaging with customers that are not yet subscribed to your channels.
How do you stack up? Again, look at your competitors. What opportunities are they seizing that could be added to your plan? What lessons have they learned that you can use to cultivate success?
Set Goals
Your strategy should be as "SMART" as you are, with your plans being specific, measurable, achievable, repeatable and time-bound. Good social media planning encompasses all these. Whether the goal of your social media presence is to drive business, interact with customers, build brand awareness or some mix of all of the above, find ways to measure and track success.
Social media analytics are an incredibly valuable (yet inexpensive) research tool – if what you are tracking is in line with your business objectives. For example, if the goal is to build more engagement with customers, measuring likes, shares and comments can track progress against that goal. But if you want to drive new customers, social media engagement is just one piece of the puzzle. In that case, you may also need to review other data, such as traffic from your website to your social media, or conversions from users to customers through special social-only promotions, call-in numbers and deals.
Build Momentum
Last, but certainly not least, post frequently. Think of it as "can't stop, won't stop," since the worst mistake you can make on social media is to start off with a bang and then trail off to silence.
This brings us to "why." Like any component of a good marketing/PR program, your social media objectives should always align with your organization's overall business objectives. Businesses thrive on trust and good rapport with their clientele. When done well, social media offers a great advantage in identifying audiences, opening communication channels with them and, one day, earning their trust and maybe even their business. Just as you would never walk away from a customer standing in front of you, you should never begin social media campaigns unless you are intent on keeping them.
The momentum social media offers your brand is valuable, as is the unique access to your customers' preferences, ideas and trust. Just as important as talking to your customers is the art of listening to their responses – spoken or unspoken – and using that intel to your brand's advantage. Momentum in social media: your followers expect it, and your brand should utilize it.
Jaime Jordan is a vice president and director of Corporate Communications for the Federal Home Loan Bank of Dallas.